Facebook Messenger is now a standalone application which is mandatory if you want to chat over Facebook. If you do not have the Facebook Messenger app installed in your smartphone, any platform viz. Android, iOS and Windows Phone. No matter, if you use Facebook or not, you have to use Messenger to get all messages. Previously, Messenger used to be closely integrated with Facebook app. But now it's not so. Even if you deactivate your Facebook account, you can keep your Messenger app to converse and communicate with other friends.
Facebook Messenger has a feature called the Active feature. The active feature enables you to remain online. A blue icon will be shown beside your name which will imply that you are available for chat and communication. The Active feature may sometimes seem annoying as it shows you online even if you are sleeping or not nearby your phone. In that case, turning off the Active feature is the best soluton. The following tutorial will help you hide the Active Status in Messenger. One thing you must remember is that hiding the Active status will not hamper message sending or reception. It's just people will not see you online for the entire day. Neither will you be able to see other Active users.
Here we shall show the process for Android.
1. Open your Facebook Messenger application. Go to the Contacts tab (as shown in the image).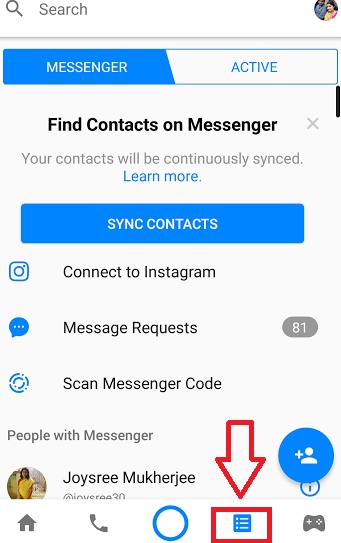 2. Now at the top you will find two tabs, one is the Messenger tab and the other on is the Active tab. Tap on the Active tab.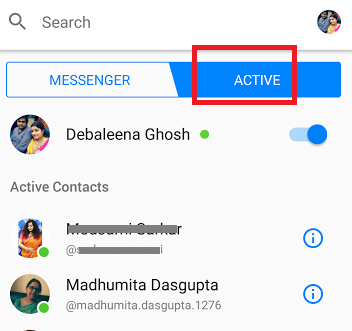 3. When you open the Active tab, you will find an option to turn on/off the Active status beside your name. Move the slider to the left to turn off the Active Status.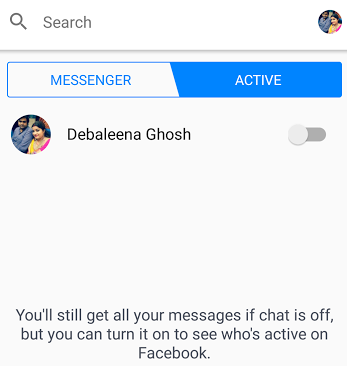 4. Now when you want to turn on the Active Status in Facebook messenger, follow the above steps and move the slider to the right to turn on the Active Status.