Apple lovers will agree that launch events of iPhones are no less than carnivals. After highly anticipated waits, when the devices finally hit the market, excitement knows no bound. iPhone 7 and iPhone 7 Plus have arrived the market and we are here with the review of iPhone 7. The model we are reviewing here is the 128 GB Jet Black model. This time Apple has generously included different colors and Jet Black model is definitely one of the most beautiful looking phone that has ever been manufactured. Apple is known for making the best devices in the market and the most user friendly and secured operating system iOS. Check out the hands-on review of Apple iPhone 7.
Unboxing the box!
The box itself looks beautiful. It comes with a charger, a Lightning connector, Lightning EarPods, charger, A user manual and of course the iPhone 7. Apple has courageously made some drastic changes like dropping the 3.5 mm headphone jack. The charger has been designed different. But the phone looks a lot like its predecessor.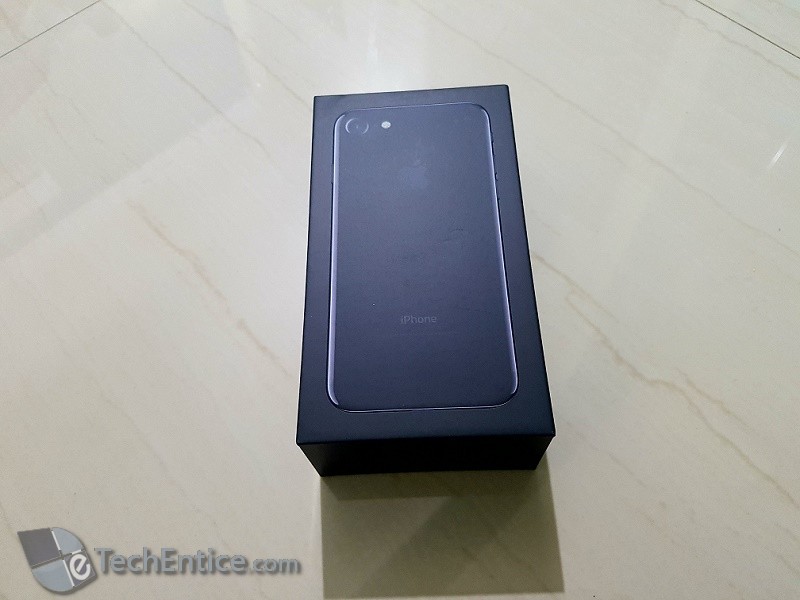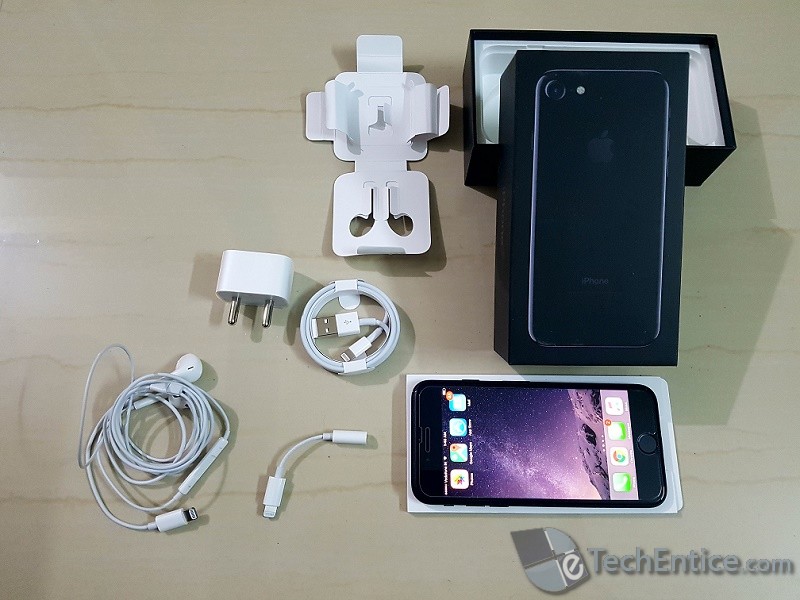 Design
As you can see from the photos, the design looks much like iPhone 6 but with some modifications. The device is available in Jet Black, Matte Black, Silver, Gold, Rose Gold. The Jet Black is only available for the 128 GB and 256 GB variants. The antenna lines on the back have been modified and colored to blend into the body on the matte black and jet black models whereas the antennas are dull gray color for the silver, gold, and rose gold variants. The camera bump has been enlarged a bit but very beautifully matched with the body.
The body is made up of strong 7000 Series aluminium which makes the device incredibly sturdy. The jet black model with a high gloss finish looks as if the body is not a metal body but it's also made of strong 7000 Series aluminium and equally strong. The jet black super glossy finish has been produced by nine-step process of anodisation and polishing.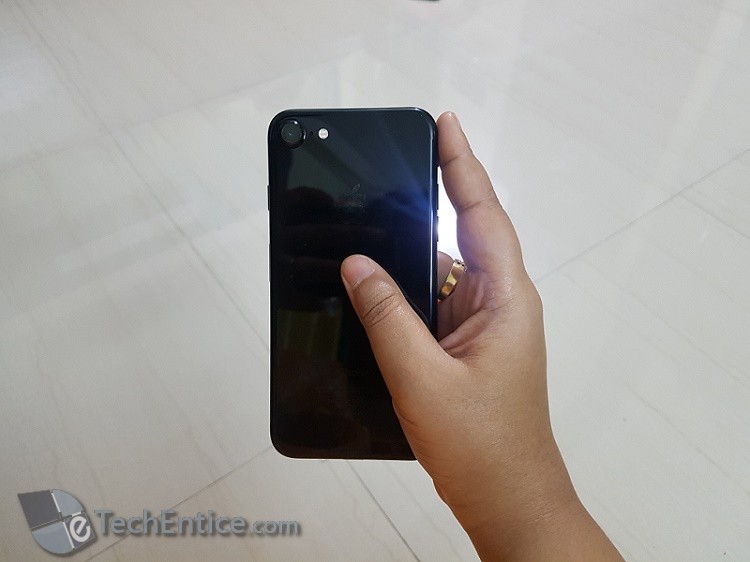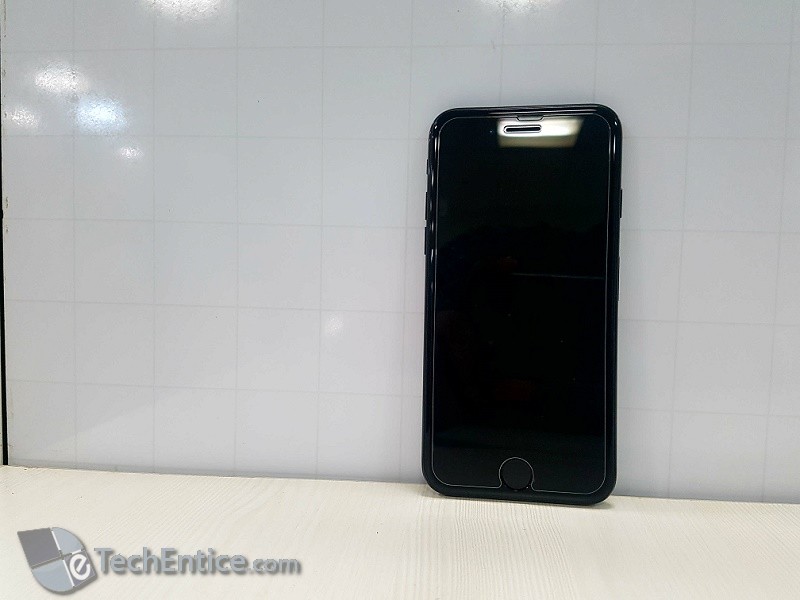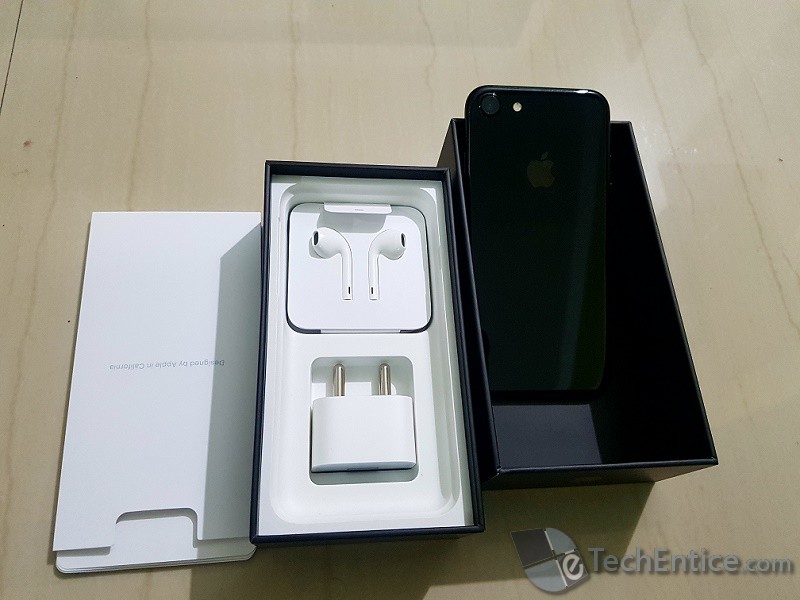 Processor and Memory
The device sports a Quad-core Apple A10 Fusion chipset with GPU six-core graphics for superfast performance. The device is classified into several variants based on memory. Every variant has 2 GB RAM but different on board storage. The variants are 32, 128 and 256 GB. There is no provision for external memory slot.
Display
iPhone 7 comes with a 4.7-inch Ion-strengthened glass, oleophobic coating. The Wide color gamut display 3D Touch display & home button give the device a royal appearance and vibrant screen. The iPhone 7 Plus screen size is 5.5-inch.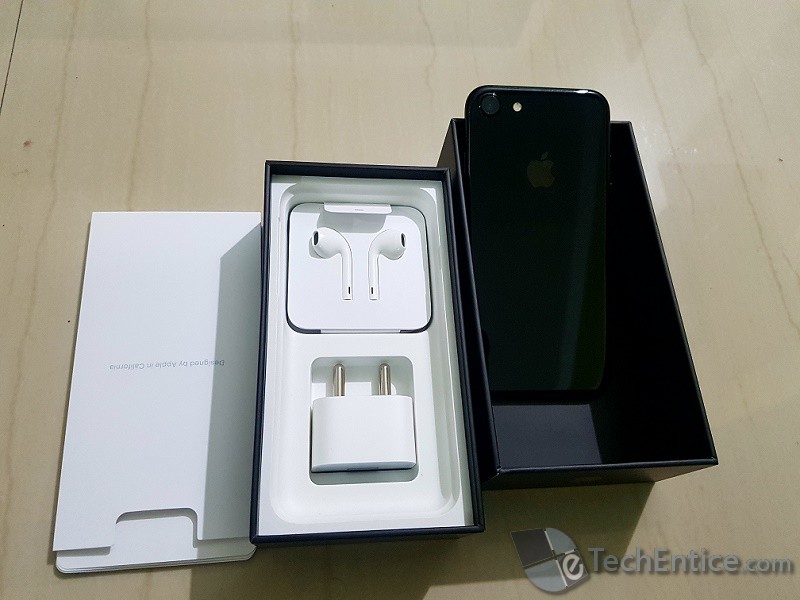 Home Button
The Home button on iPhone 7 is an advanced solid-state button. It's engineered with taptic feedback and the button is strong, durable and customizable like never before.
Water Resistant
Water resistance is one new feature for iPhone 7. No previous iPhone was water resistant. Now, here one thing is important to note. The device is water resistant but not water proof. Samsung and Sony devices are waterproof and they can be immersed in water for half an hour or so. But this is not applicable for iPhone 7 or iPhone 7 Plus. It's splash proof. If water is spilt accidentally on the iPhone 7, then water resistance feature will keep your iPhone safe.
Sound and Speaker
The sound is really clear and crisp. It's an amazing experience all together. The high end stereo speakers provides impact and loudness two time that of iPhone 6S.
Camera
Before the launch of iPhone 7, Applw said that iPhone 7 will bring the best camera, that users have ever come across to. Have a look at the specifications offered by iPhone 7. Primary camera: 12 MP, f/1.8, 28mm, phase detection autofocus, OIS, quad-LED dual tone flash. It also includes 4K video and 8MP image recording, touch focus, Live photo etc. Video recording can be captured in the following formats- 2160p@30fps, 1080p@30/60/120fps, 720p@240fps. The front facing camera is a 7 MP shooter with f/2.2, 32mm, 1080p@30fps, 720p@240fps, face detection, HDR, Live photo, panorama etc. The camera is undoubtedly terrific. The selfies have high precision and clarity. The primary camera quality is equally good. Samsung Galaxy S7 Edge packs almost similar camera specifications as that of iPhone 7. Hence, we have taken some shots with cameras of both the devices, in same condition and unedited. Have a look:
Sample pictures
Lightning Strike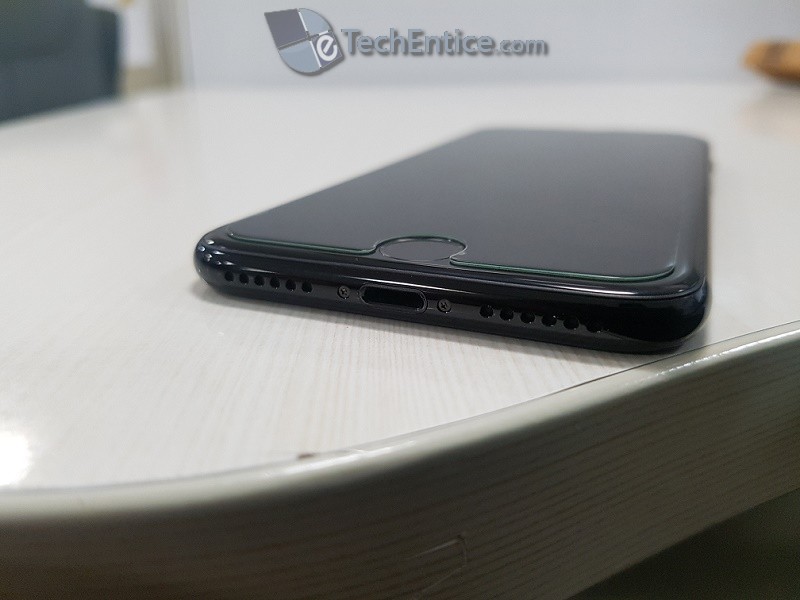 We have always seen that Apple has never been scared of taking bold decisions. It just chucked out the traditional headphone jack like a boss. To please its users and let them accustom with the change, Apple has included Lightning connector in the box along with a pair of EarPods headphones and Lightning-to-3.5mm dongle. This entire package will serve as conventional headphone. The main reason that has been mentioned by Apple is more focus on features like Camera, Battery, Taptic Engine. The headphone jack has been removed to accommodate many more features. Even though all provisions have been made for using the EarPods like normal headphones, still users will find difficulty to plug in and plug out with the dongle, especially if they have a number of earphones. The dongle is small enough to get lost. However, the Lightning EarPods are much like Apple's regular EarPods, good in quality but not impeccable. Many companies in the market like LG, HTC provide better quality headphones. The thing is that Apple has provided complementary accessories like the dongle, the connector which already makes the package expensive. This led Apple to compromise on the sound. So, whether dropping the headphone jack is a smart decision or not- will be revealed in course of time.
Taptic Engine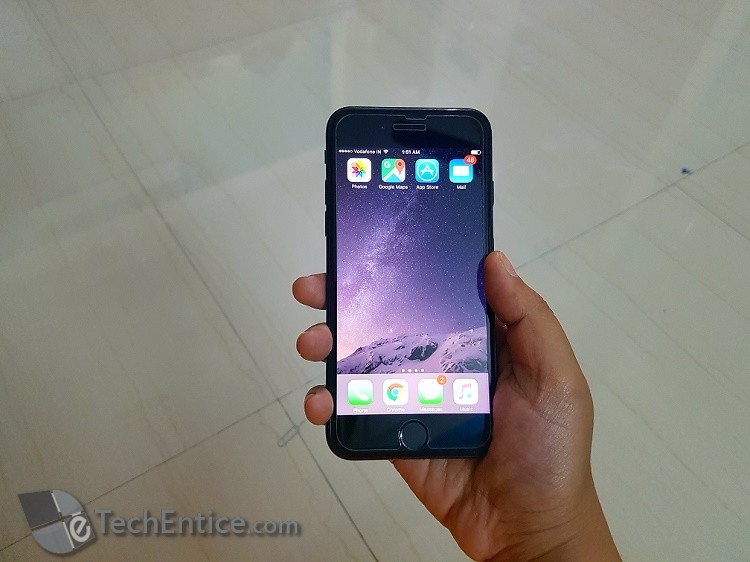 iPhone 7 brings the Taptic Engine in it, thus ameliorating the Haptic feedback to a new level. We all know about haptic feedback in smartphones. It's the mild vibration or sensation sent upon to the user to let him/her know that the finger taps on the touch sensitive screen has actually happened. Without this vibration, it won't be possible for any user to know if the finger taps on the on screen keyboard, or on screen home button has been initiated. Previously, iPhone's haptic feedback were produced by electronic devices called actuators. Linear actuators created the sensation. In iPhone 7, the actuator has been replaced by Taptic Engine which produces motion like sensation. If you press the Home button, you will feel that you have presses a physical button. It gives a moving sensation. iPhone 7 is not the first device to get the taptic engine. Apple Watch has already used it and many Chinese manufactures have already deployed the technology. But this is the first time an iPhone is using it and the beauty lies in the precision with which the sensor works. This is force feedback and not just vibration. The impact is neat and prominent and can be felt even through cover.
Pros in a nutshell
1. Water resistance is definitely one of the most useful features that enhance the life cycle of a phone. Fortunately, iPhone 7 is water resistant.
2. Display is amazing.
3. Battery Life is appreciable.
4. Taptic Engine is very precise.
Cons in a nutshell
1. The first thumbs down goes for the Jet Black model, that we are reviewing. The Jet Black model is scratch prone. Even if you handle the device carefully, it will get some scars. While reviewing it, we found out that within no time, the device got so many scratch marks. This model also catches fingerprint marks. The scratches are not like the scratches that a phone gets from some sort of mishandle. They're visible only when light falls on them at a particular orientation. Despite the beautiful finish, the scratches and fingerprint marks are going to make your phone look ugly. A good solution solution is getting a transparent back cover for your phone.
2. The second point is definitely lack of headphone jack. Even though this feature is known to everyone, yet we cannot deny that a sudden miss of the feature is making us uncomfortable.
3. The overall design hasn't been revamped much.
4. Wireless audio system is not up to the mark.
So, here is our unbiased review about iPhone 7. It's a great device beautifully engineered with some bold changes.