At Mobile World Congress in Barcelona, Sony has revealed its new full-sized tablet — the Xperia Z4 Tablet — and the mid-range Xperia M4 Aqua. Year 2014 was rather an odd one to huge company like Sony who released five flagship products Xperia Z2, the Z3, the Z3 Compact, the Z2 Tablet, the Z3 Tablet Compact in just a single year. The Xperia Z4 Tablet is the first "iPad Air competitor" from Sony in a year, and while it may look similar to the Z2 Tablet it replaces, a lot has changed. Almost everything about the Z4 is improved over its predecessor.
Sony pulled the wraps off its new generation full-scale slate, the 10.1-inch Xperia Z4 Tablet. It is stunningly thin and light; features a sharp Retina-grade IPS panel, and retain the isolation from the elements, which has become synonymous with the Sony lineup. The tablet is also equipped to be a strong performer and packs innards, worthy of its flagship designation.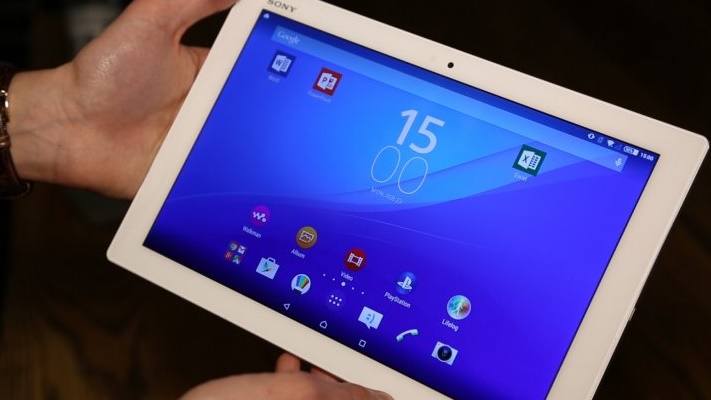 Z4 has slimmed down to an iPad Air 2-matching 6.1mm, and also weighs 389g (393g for the LTE version), which happens to neatly undercut the Air 2 and other competitors. Sony's also gotten rid of one design issue with past Xperias: the cap on the charging port. This cap was a previous requirement for the Xperia's famed water-and-dust resistance rating, and even though it was never more than a minor annoyance, Sony says it's managed to go capless while keeping the certification. The final, welcome addition to the spec sheet is Android 5.0 Lollipop.
The Xperia Z4 Tablet hasn't been priced yet, but it's likely to start somewhere close to $499 (Rs.31,000) for the 32GB Wi-Fi model — roughly in line with the Xperia Z2 Tablet it replaces and the iPad Air 2 it's hoping to dethrone. It'll be available this spring.
Sony's second device Xperia M4 Aqua looks a lot like Sony's Z3 Compact. In place of the Z3 Compact's metal there's a plastic band surrounding the device, but it still feels very much like a premium device. It's got a passable 5-inch 720p display, an octa-core Snapdragon 615 processor, LTE, 8GB of storage (expandable with microSD) and a 13-megapixel rear camera with a wide f/2.0 aperture. Sony is making a big deal about that camera, and it certainly took adequate photos in the brightly lit room we tested it in, but it didn't blow us away in the brief time we spent with it.
Like the Xperia Z4 Tablet, the M4 Aqua is waterproof with no cap over the charging port, and runs Android 5.0. M4 Aqua is expected to be costing almost €299 (Rs.18, 500) and it will be launched this spring in 80 countries worldwide
Sony Xperia Z4 Tablet and Xperia M4 Aqua revealed at MWC, Z4 competition for iPad Air 2?
- Last modify:
March 3rd, 2015
, Author: