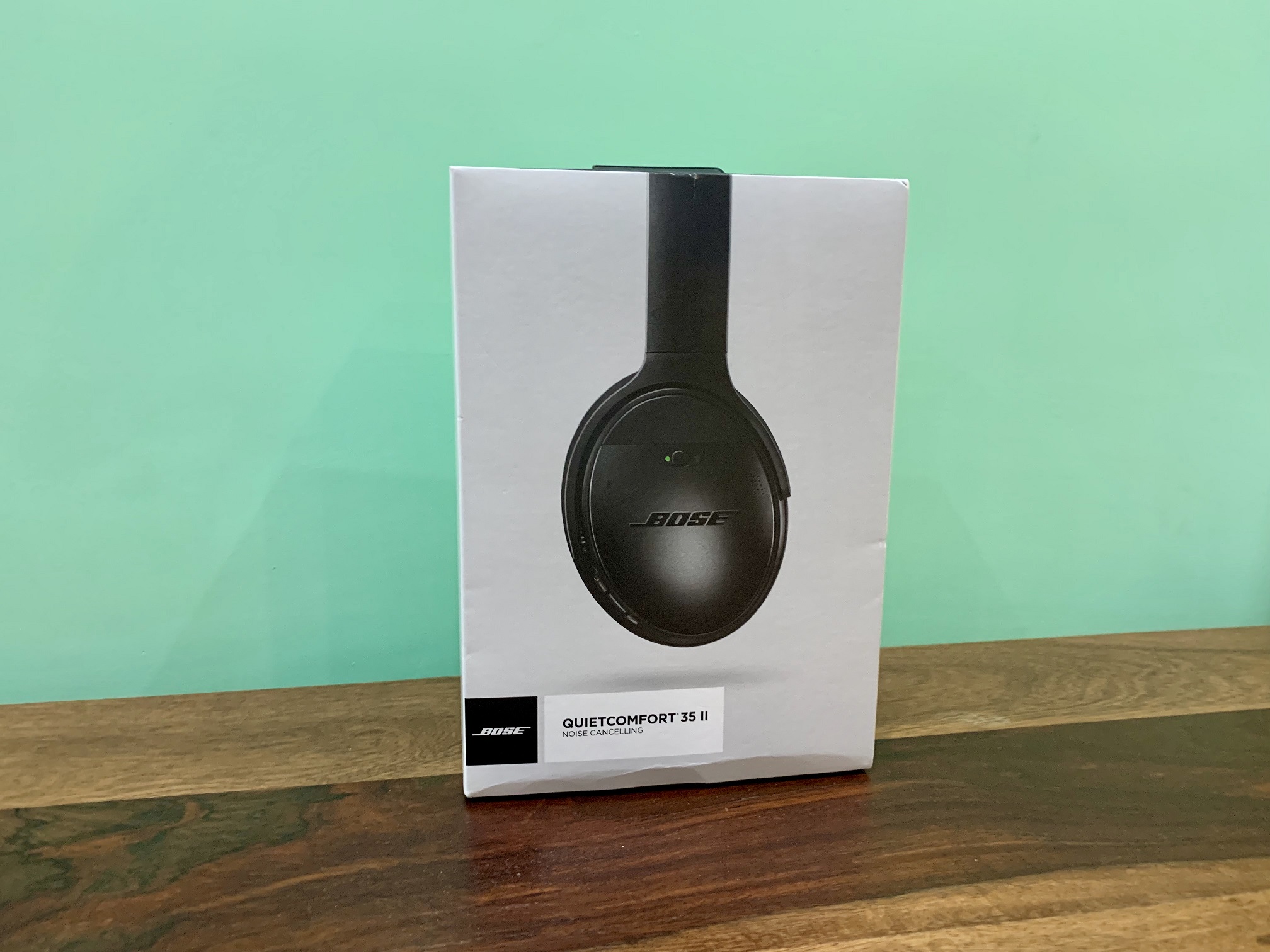 BOSE is known for manufacturing some of the finest headphones available across the globe. Its Quiet Comfort 25 headphones have been received extremely well. If you are thinking about a perfect travel companion, then until now, BOSE Quiet Comfort 25 could have been your perfect choice. Now, with the successor on board, BOSE QC 35 II Wireless Bluetooth headphones, have managed to steal much of the limelight from its predecessor. As you already know, QC stands for Quiet Comfort. So, it is obvious that the device pledges to offer you two benefits, one is the Quiet ambience with the aid of noise cancellation technology and the other one is the Comfort. If you compare QC 35 II with its predecessor QC 25, then the former one is a bit heavier in weight compared to the latter one, but you will notice it only if you have used QC 25 before.
Unboxing
Well, like any other BOSE products, the packaging of the QC 35 II is elegant and uber stylish. The white box with the side view of the QC 35 II makes you more excited and inquisitive about the beauty inside. The package packs a sturdy carrying case, which is tough enough to keep your headphones protected from any kind of unintentional pressure, drop and damage. The other things that are also packed, are USB charging cable and an audio cable for listening in wired mode.
Comfort and Built Quality
The BOSE QC 35 II is extremely flexible. You can twist it and its tolerance limit is unbelievably amazing. The synthetic protein leather ear pads are fluffy, spongy and extremely endearing and loving for your ears. Inside the headphones, the R and L indicates the right and left ear pieces respectively. It's written huge, so that anyone can notice it in a single instant. The top padding that rests on your head is equally soft and provides delicate touch, mitigating the pressure as much as possible.
The Built Quality of the device is superb. As QC 35 II has been advertised all along as the perfect travel companion for you, then it is the responsibility of the company to build the headphones with the best material and best design. Quiet comfort 35 II is made up of corrosion-resistant, impact-resistant materials and glass filled nylon materials. But don't think, this highly strong and steady materials will make your ears uncomfortable- not at all! What you will feel on your head is the ultimate luxury. The super solid, sturdy materials are covered underneath, by Alcantara. Alcantara is a material, used in high end cars and yachts. This material will provide high end comfort and relief to your ears and you can easily use it your entire day.
Quiet and Peaceful Audio Experience Thanks To Noise Cancellation
The next feature that is its signature property is its noise cancelling ability. I have used it, and to be honest, you cannot hear any noise of your ambience, not even if people talking to you. So, there is no doubt on the potentiality of this feature. The microphone is unequivocally impressive as it chops of the cluttering noise around you and sends only the words that you are speaking. The headphones are equipped with volume-optimized EQ, for an even better noise free experience. If you turn on noise cancellation and then listen to a very soothing music, or sound of rains, or several relatable audios available on YouTube, you can feel the intricate details of the sound and you can feel the different nuances of the sound in the music. The acoustic noise cancellation caters you well with the ultimate state of the art, audio experience.
A smartly designed On-Device Control Buttons
Since, the QC 35 II is wireless headphones, the on-device control buttons are very important. The earpieces have a power button to turn the device on and off, volume buttons, audio skips button, battery alert and Bluetooth lights and an Action button for communicating to Google Assistant and Alexa.
Long Lasting Battery Life
The battery life did impress me a lot! It provides 20 hours of listening on a single charge. This is pretty cool, especially when you are on the go. An additional 15-minute charge is good to go for another 2.5 hours.
All In One App and AI app Interactivity
The Action button on your headphones, is for communicating with Artificial Intelligent app services like Amazon Alexa and Google Assistant. You can ask the AI app several queries like direction to a destination, search for suggestions and pretty much everything you ask Alexa or Google Assistant in your daily life.
Other than this, the all in one application of BOSE offers all facilities that are there in your device. You can explore each and every corner of the app and nourish your knowledge and fervor of this device. The BOSE Connect App, as the name coined to the app, serves you with every feature that can enhance your audio experience with QC 35 II.
Conclusion
The BOSE QC 35 II is indeed a prized possession in your life. If you have used QC 25 in the past, then your impression may not be as overwhelming as a user who has QC 35 II Wireless as his/her first luxury headphones. The price of the device is around $350 in Amazon in the United States. You can get better deals during offers and schemes.