OnePlus is a Chinese company launched in December 2013 with operating system Oxygen. Refresh rate of the display of this phone is quite high compared with other phones of same range. Lower versions of OnePlus comes with 90Hz refresh rate but recent version OnePlus 8 Pro upgraded to 120 Hz. With high refresh rate, the performance becomes faster but if we are talking about battery consumption, it is also very high.
In this article, I shall talk about tips and tricks to improve battery life and reduce battery consumption in OnePlus devices.
How To Improve Battery Life Of OnePlus Phones?
1. Reduce screen resolution and refresh rate
From OnePlus 7 Pro edition, OnePlus offers QHD(quad HD) display resolution with 2560×1440 pixel. This is 4times better than HD display and very sharp resolution.
From OnePlus 8 Pro, OnePlus offers QHD+ AMOLED( active matrix organic light emitting diode ) 120 Hz refresh rate. But you have the option to reduce the screen resolution. You can set it to FHD or Full HD with 1920×1080 resolution which is cheaper than QHD display. FHD display is easily compatible on mobile and saves battery also.
To change screen resolution, go to Settings-> Display-> Advanced -> Resolution.
If you still want to use QHD+ mode on the Auto Power saving option.
To change refresh rate, go to Settings-> Display -> Advanced -> Refresh rate. Here you can change refresh rate from 60Hz to 90Hz and 120Hz. You can save huge battery. But in that case, you may face some problem like Unsmooth animation.
2. Use Built-in Optimizer In OnePlus Phones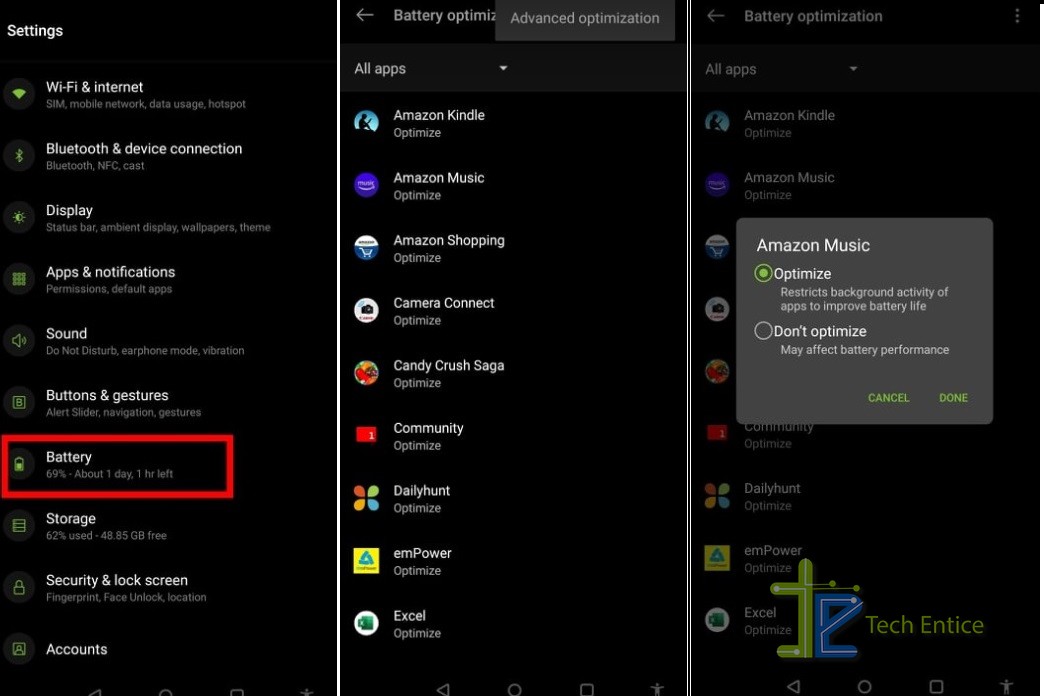 OnePlus has a built-in optimizer option. You can optimize any app manually. Go to Settings-> Battery-> Battery Optimization and select the app you want to optimize. Battery optimization option also sends notification if it detects any background app sucks battery. The app then provides with an option to disable the app.
Advanced Optimization is also available.  This option will restrict background apps to receive notification until they are reopened. If you forget to close the background apps, this option will automatically restrict the apps to save battery.
3. Detect which apps are draining battery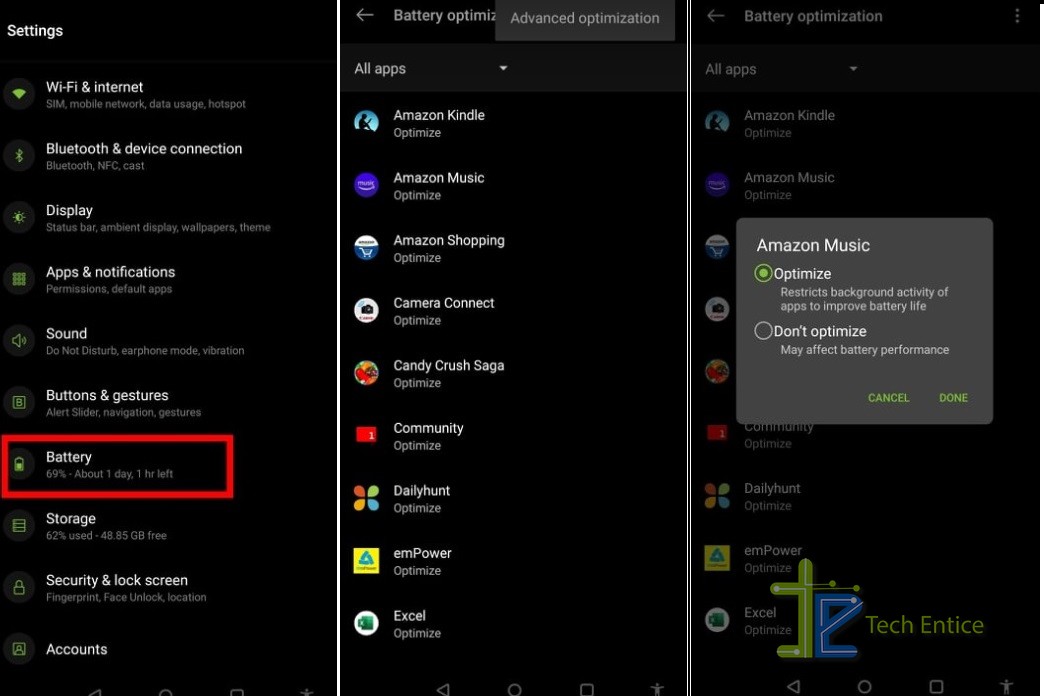 Go to Settings-> Battery -> View Detailed Usage and you can see the detail of battery consumption by individual apps. If you notice any apps are consuming more battery, then you have the facility to stop the app.
4. Uninstall Unnecessary Opened Apps
Uninstall the apps which are not necessary. Check your phone at least in a month to find unnecessary apps and delete them to increase battery life of your phone.
5. Ambient Display
Go to Settings-> Display-> Ambient display. In Ambient display mode, the screen wake up whenever any notification is received. This feature reduces battery life. So, toggle the option Wake up screen when receive notification to off mode to save battery life.
6. Screen timeout
By default, screen timeout is set to 30 seconds. But you can set it to 15 seconds to save more battery.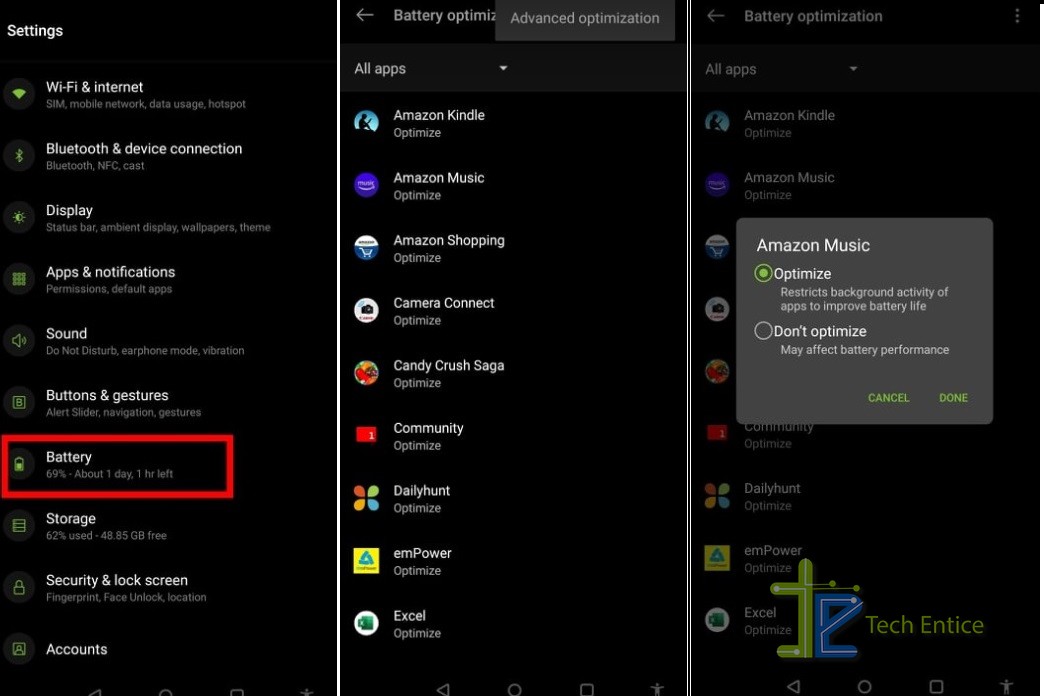 7. Switch to a dark color display
AMOLED displays can turn on or off every pixel. So, where the portion of display just need to be activated consume less battery. To display more Colors, for colorful themes, the device takes more battery than dark theme. You have the option to choose color theme or dark theme. Go to Settings-> Display-> Customization-> Theme.
8. Turn on battery saver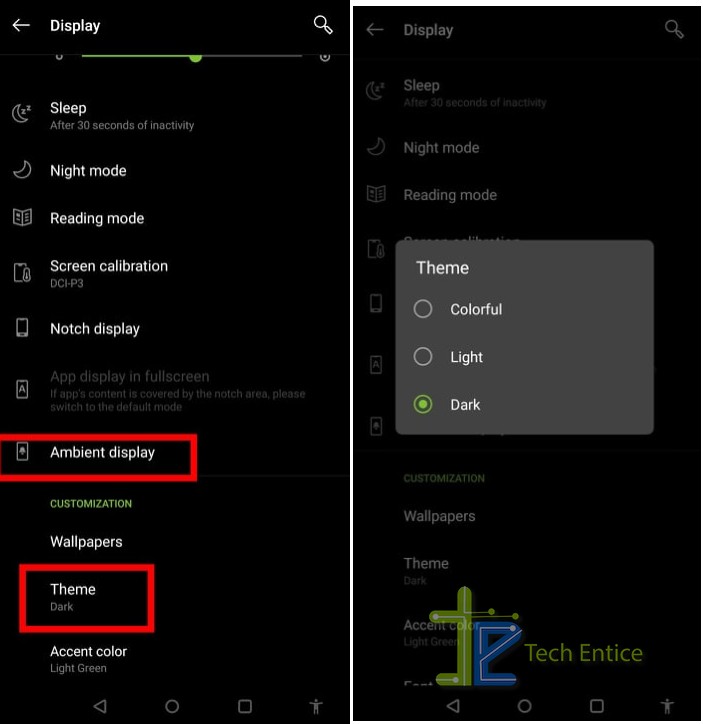 Go to Settings-> Battery -> Battery Saver. Turn on the option. You can set a percentage, after which battery saver is turned on automatically. Battery-saver restricts the background apps, downs visual effects, limit screen resolution and control refresh rate to extend battery life. Battery saver mode actually works when your phone is on stand-by mode.
9. Install Updates
Normally, you get yearly updates for your phone, but OnePlus provides bug fixing updates with battery related fixing frequently for it is Oxygen OS. Recent updates include lots of fixing like battery optimization, smooth animation, Wi-Fi connectivity and much more.
10. New Feature added
OnePlus 8 and 8 pro introduce a new feature. When you left your phone with charger for whole night battery charges only 80% and cuts off. Rest 20% will charge before you wake up. Battery optimization feature will take some time to know your sleeping habit. Then it automatically starts 20% charging just before you wake up. This feature increase battery longevity