With the advent of digital cameras, there are still certain issues that can easily ruin your day. This comes with a good as well as bad news. The bad news being that your data and images can be lost, whereas, the good news says that these could be easily retrieved. How to get the deleted photos back?
Your memory card can get damaged in various ways, due to its mishandling and this could lead to loss of your photos and videos. Do not panic, because know you have software that can solve all your problems. The photos and videos that are hidden from your end are still accessible with the help of image recovery software.
If you are taking pictures and suddenly your camera displays a message to reformat your memory card, be sure that something has happened to your memory card while the camera was writing on it. The most advisable thing to do at this time is NOT to reformat it but to stop using it right away. You may realize that you are not able to see your favorite pictures in your photo gallery. How to recover deleted images from the gallery?
We do have the tendency to switch off and switch on our cell phones in such cases. But leaving the cell phone or the corrupted device aside will be of much use rather than experimenting to restore images.
Another option is to just remove the memory card from the camera or your phone and keep it aside. Genuine thinking and smart actions can help you to retrieve deleted photos in a secure manner.
Research and act is the best way to make a better decision. You will be surprised to know that this photo recovery software is free to use and can give great results, by fetching your memories and documents back for you. Definitely, you will find this process of photo deleted recovery software experimenting lengthy, but thorough research will lead to more benefits. Some software might be costly and effective while over might be able to give similar results but free of cost.
How to recover photos with a useful photo recovery software
The only time taking procedure during recovering images is the downloading of the software, searching for the right one and downloading it into your system. But the process that follows is quick and reliable.
You definitely do not need any professional knowledge to use this software for getting your deleted pictures back. Recoverit Photo Recovery Software is easy to use software, by following simple and basic procedures. It would always be a good choice to look for the one which gives you a preview of the images before restoring them. In this way, you can select the desired pictures rather than restoring a whole lot of images back into your gallery.
Introduction of Recoverit Photo Recovery Software
Recoverit Photo Recovery Software is a wonderful platform-independent software, available free of cost for its users. The ease of using this software makes it even more popular for digital image recovery.
Once you restore your deleted pictures from your memory card you can save them at a safe place. The advantage of saving your images is that now you have cleared space from your memory card to collect more memories.
Simple to use, Recoverit Photo Recovery Software helps you in restoring deleted photos for android phones as well. This software solves your problems of photo recovery in a very convenient way. It takes just three simple steps and your long lost data is back to its place. Though, it is advisable to change the location to retrieve deleted photos, as data can be lost again if stored at the same place. Also taking regular backups will be of much use for data security.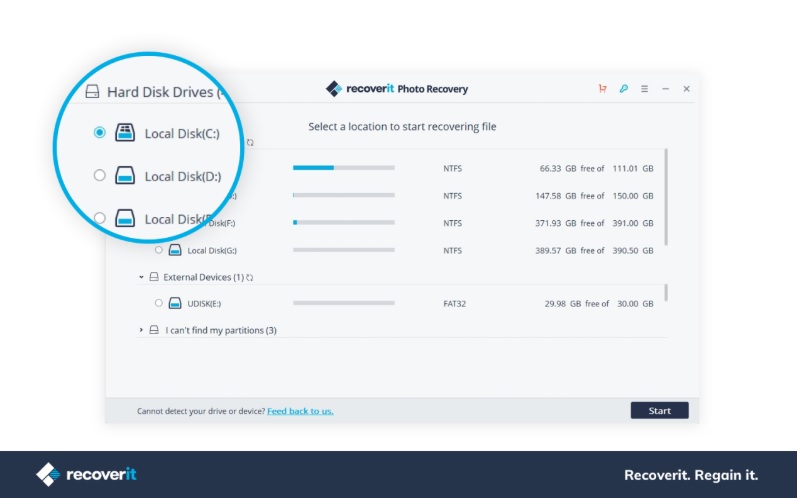 Guide to recover deleted photos step by step
Step 1: Select a disc(location) that your photo lost from
The very first step to restoring your data and picture with Recoverit Photo Recovery Software is to install it in your system. The software asks for the exact image lost scenario in this step where you have to carefully select the real cause behind deleted photos. The causes may vary from accidental deletion to corrupted files.
Step 2: Scan for searching deleted photos
This step allows you to select the exact place from your device and computer from where the data loss has taken place. Clicking on the 'Start' button will start the recovery process.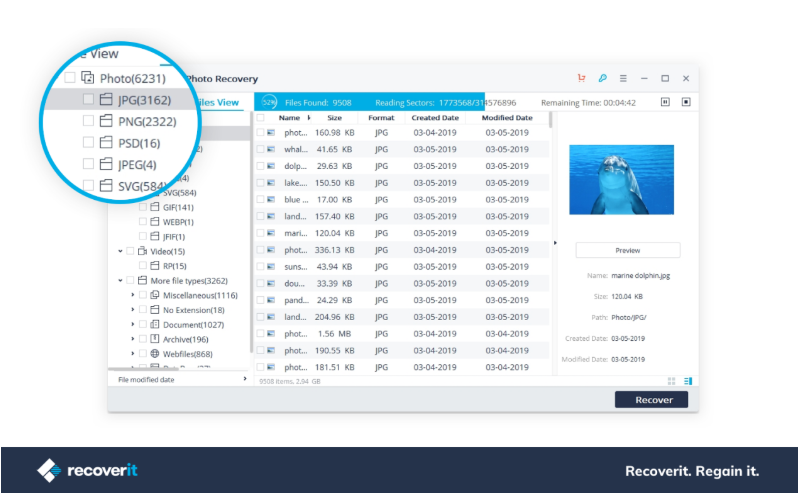 Step 3: Preview and Retrieve the deleted photos
This feature even allows you the selective recovery of your gallery. You can scan the images and select the required images and recover them in your computer.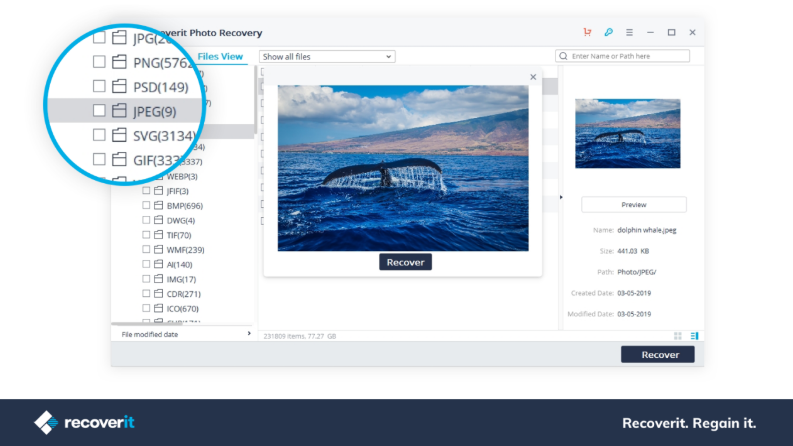 Following these simple steps can save you from losing your important pictures forever. But showing haste will always lead to further damage to your data. The above blog gives you information about Recoverit photo recovery software. You can easily use this image recovery software to get back your important images and save them from future damage. Your images are safe in the hands of recoverit photo recovery software. You can sit back and relax, while your images are being restored.