Today, Internet is like one of the most basic things required to lead good life!! It has gone on to be useful in almost every aspect in life. RealTouch Interactive one such intimate internet technology that allows people to "have sex" through the internet!! A "digital brothel" (as anyone would call it!!) is North Carolina-based business specializes in teledildonics, that provides wearable gadgets to perform sex by paying customers who connect with consenting partners online!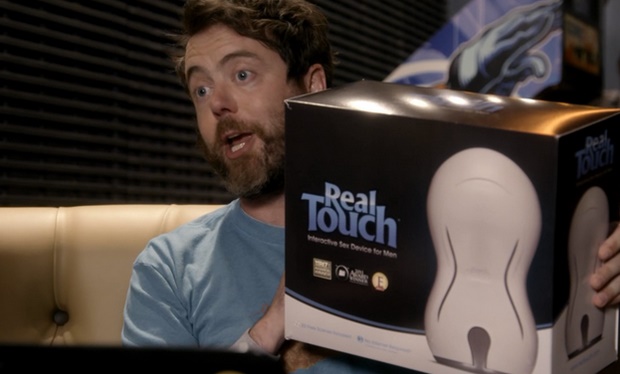 RealTouch launched in 2008 as a subsidiary of the Adult Entertainment Broadcast Network, a service that streams thousands of movies from its own site and also owns the popular video site PornoTube. In 2012, RealTouch was on the rise, getting featured in HBO's Sex/Now documentary series and Amazon's original comedy series Betas. But despite the positive press, the company's fortunes took a nosedive. RealTouch found itself unable to sell its hardware and, what's more, it is now catering to a dwindling group of existing customers. It wasn't the moral majority, however, that pushed the sex-tech outfit to the brink of collapse. It was patent licensing.
The company's initial teledildonic hardware, simply named the "RealTouch," consisted of a male masturbator — a motorized sleeve placed over male genitalia in order to simulate sex, designed to work in sync with a set of specially modified movies from AEBN's back catalog. For example, if you watched a movie where a male performer was penetrating another person, that thrusting motion would be replicated by the device. If that performer were to then quicken (or slow) their pace, the device would follow suit in real time. It wasn't the most elegant of connected-sex solutions, though, since it required its own USB "mini tower" and power supply to connect with a desktop PC. Later in 2012, RealTouch added a dildo called the JoyStick to its stable of connected toys. The JoyStick had a capacitive exterior that could be used to sense any form of touch.
"Producing a capacitive surface that could handle the sensory input initially proved difficult as liquids (in this case, lube and bodily fluids) confuse capacitive touch devices — much like how your smartphone goes haywire in the rain!!"
-"EJ," RealTouch product manager
When RealTouch launched back in 2008, the company had to license some minor haptic-interaction patents for its teledildonic tech since they covered any sort of internet-based touch events; licenses set to expire in 2013. But when RealTouch offered to extend the agreement for a similar amount, the company was rebuffed with the claims that the owners of those haptic patents wanted far more money than what was realistic. In the important phase of Company where both researchers who were working on the second generation of RealTouch hardware and the factories that were preparing to manufacture the fifth run of the original, the licensors strung out their negotiations beyond the hard dates forcing RealTouch to shut down!
However, by the time the agreement was eventually reached with the licensors, Amazon's Betas and HBO's Sex/Now both had already been aired, sending mainstream interest in RealTouch's products from less to completely null leaving company no option but to exit the market. The backers had pulled out; the factories had moved on; and all RealTouch could do was continue to support its existing customer base with hardware troubleshooting, but not product repair. "Customers break their devices through wear and tear, but we don't have the ability to replace them," said EJ.
With mainstream investors less interest in adult brands, and very few companies within the adult entertainment industry wealthy enough to put up the million-plus dollars it would take to resume production, RealTouch looks like it is destined to exist as a footnote in the history of technological sex. However, RealTouch is claimed to be ready for a deal to sell or even license the teledildonic technology to another brand in a heartbeat, but so far none have shown interest. For all its innovative promise pioneering the connected adult entertainment industry, let's hope for virtual life lovers that RealTouch gets some support and continue its good work!!