There is an array of Cydia tweaks that have the capability to even out for iOS' absence of gesture-based music controls. There are tweaks that are available and provide to add gestures in the Music app, lock screen and also in the volume HUD control. Gesture Music Controls is pretty different than all the other tweaks coming under this genre, though, as it strikes upon numerous parts of the iOS. Kudos to this tweak, you can easily take control of the presently playing tracks from the lock screen itself , Control Center, and the stock Music app. Gesture Music Controls does not call in for any configuration, and is completely all set to be utilized right away after its installation is completed. The sharing choices that are available in the tweak turn it into a perfect package for mixing up your music.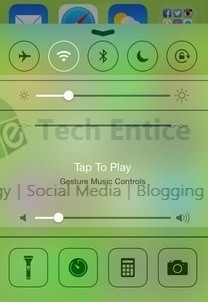 Tweaks for example Gesture Music Control are generally not too easy to use since they support an excess amount of gestures. While Gesture Music Control is broad in scope in its own way, you won't necessitate a much greater time to get acquainted to the gestures it provides with the package. The gestures persists to be unaltered throughout various parts of iOS. Irrespective of whether you are on the lock screen or inside the Control Center, a rightwards swipe on the track's name directs you to the very next song in the current playlist. Here is a listing of all kinds of gestures supported by Gesture Music Control.
1. Right swipe: Plays next song
2. Left Swipe: Takes you to the previous song
3. Tap: Pause / Play
4. Upwards Swipe: Brings up the iOS 7 sharing menu. You can tweet about the currently playing song, post its name to Facebook, or share its information via emails.
5. Tap and Hold: This gesture only functions in the stock Music app. Long-press at any position upon the album art, and the rating dialogue displays up. All the other gestures persists to be the same in the Music app.
Make sure that Gesture Music Control substitutes the playback controls on the Control center and lock screen with its gestures, hence once your installation is done, there won't be any other procedure of controlling your music from those places. The Music app, although, persists to be unaltered.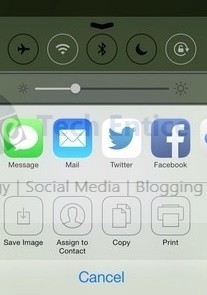 Gesture Music Control functioned quite well in my experience. The only cons is its absence of a Settings menu. This signifies that the only manner of repairing the visible controls is by removing the tweak altogether. Besides this little trick, we really like the tweak and extremely encourage it. You can obtain the app from the BigBoss repo of the Cydia store just for 99 cents.