Screenshot capturing and screen recording have become incredibly popular because it's useful in an extreme variety of purpose. When it comes to explain something obscure, picture and videos are more expressive. Screen recording is also needed when you want to record online meetings for playback or save as an archive. To do these, you need a powerful and efficient third-party screen recorder. You may ask why not use the built-in screen recorder in Windows or in the online meeting tool. The truth is that there are so many limitations like incompatible formats, weak functions and so on. In this article, I will review VideoSolo Screen Recorder which is versatile in recording video/audio and taking snapshot. After a few months' using, my feeling is: So Brilliant! It's my pleasure to meet this thoughtful and powerful screen recorder!
What are the General Features the Screen Recorder Should Have?
Before I officially recommend VideoSolo Screen Recorder to you, one question should be answered. What are the general features are the screen recorder should have? It depends on the users' need actually. If you want to record gameplay, you may care about its frame rate to avoid lag. If you are a white-collar and would like to record long-length meetings, you should choose a screen recorder which performs stable in recording long-length video so that you can avoid making mistake in your work. If you want to make wonderful commentaries or tutorials, you may expect the screen recorder owns a built-in editor. Recording Internet radio/music for listening offline requires high quality output.
VideoSolo Screen Recorder is that all-in-one tool which satisfies all the needs above. It can record your computer screen activities in various formats with high quality in Windows and Mac. Some functions show its thoughtfulness.
Recording Computer Screen Activities on Windows and Mac
VideoSolo Screen Recorder provides many fantastic features to ease your life in recording.
Now I will introduce its functions by showing you how to use it.
How to Record Gameplay/Online Meetings/Tutorials by Video Recorder 
Step 1. Launch VideoSolo Screen Recorder in Your Mac/Windows
Enter into its main interface and select the first option. It's a user-friendly interface that you can find the functions are clearly divided into three parts: Video Recorder, Audio Recorder and Screen Capture. Even you use it for the first time, you can easily find what you want.

By the way, there are no ads and virus in this program which offers better user experience. It's 100% safe.
Step 2. Make Pre-set for Your Recording and Make a Test
You can choose full screen, fixed region or customize recording area. Then turn on/off the webcam, system sound and microphone according to your need.

For recording gameplay without lag, you can set high frame rate. Click the "gear" icon for entering "Preferences" and then go to "Output" category. You can set 20 to 60 fps. Certainly, you can set the recording video format. MP4, MOV, WMV, F4V, TS, AVI and Gif are provided.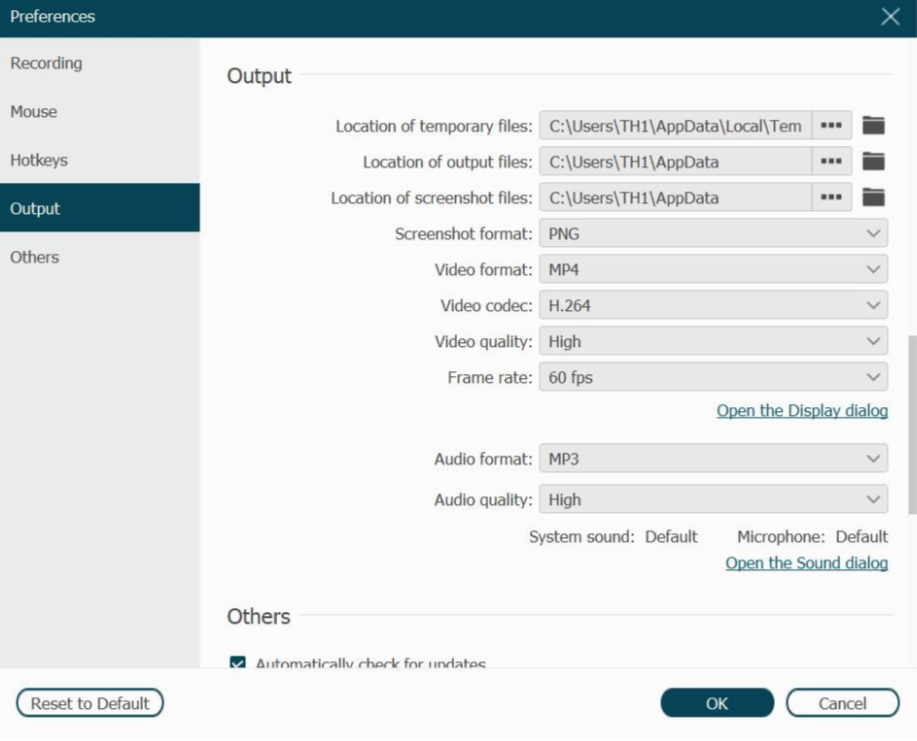 For recording online meeting, you'd better to make a test before recording. Now many online meeting tools provide their built-in screen recorders but the output format is not popular and not compatible with most of devices. VideoSolo Screen Recorder offers various format to choose. You can choose lowest, low, middle, high, highest or lossless video quality according to your device storage. But I recommend lossless quality.
Step 3. Edit Your Recording
Now Click the big button "REC" to start your recording. Then a toolbar appears. You can take snapshot, set record length, edit and adjust the sound during recording. A powerful screen recorder is necessary when you make a wonderful tutorial. The basic edit tool is very convenient for those who want to highlight some points. You can add rectangle, circle, line, arrow, brush, text and serial number at your will.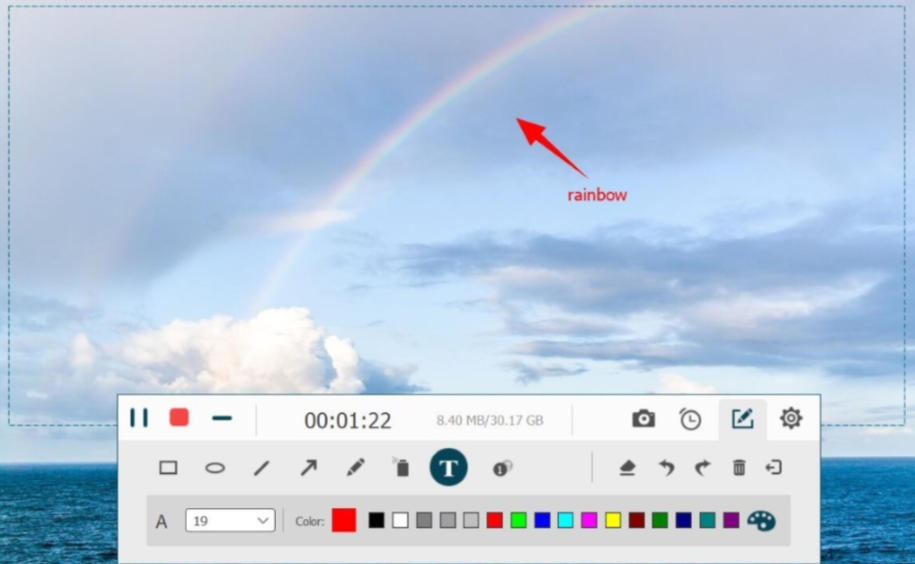 Step 4. Save and Share your Recording
Click the red icon to finish recording. Now you can preview and clip it. Then tap on "Save" to choose the storage location. It's so nice that you can share it to social platform directly.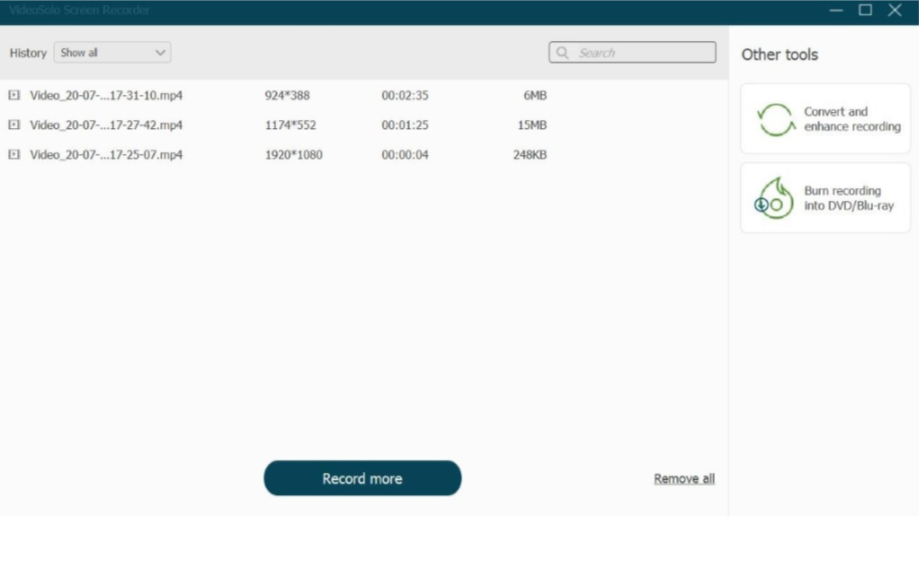 How to Record Internet radio/music/audio on Computer? 
Now let's see its "audio recorder". It's the second option on its interface. You can record audio in simple clicks: adjust system sound and microphone > tap on "REC" > record and save. We pay our attention to its brilliant function: Task Schedule. I believe you have ever wondered you can listen to your favorite Internet live radio at any time for playback. You can use this function to avoid missing a radio talk show at night even if you're away from your computer.

You can find it on the bottom info bar. You can set its start time and record length. But make sure you must keep your computer not in sleep or lock mode to make your task available.
Other Thoughtful Functions for Recording
I can't help sharing its detailed design. VideoSolo Screen Recorder pays attention to its details that give users comfortable and thoughtful using experience. The very first is its clean and safe interface. Its hue makes me feel at ease. VideoSolo Screen Recorder can show countdown before recording, hide float bar and allow moving the recording region when recording. There are hotkeys for you to control. Users can also select the mouse's color. You can customize all of these in the preferences. It makes you feel that your needs are cared about indeed.
In video recorder, there is an option "Advanced Recorder" under the "REC" button. You can set the recording area around or follow the mouse, lock and record window, exclude window and record.
This program has Window and Mac version. The operation is the same. But you need to install an audio drive when it comes to record audio.
Final Thoughts
All in all, it's a powerful and easy-to-use desktop computer recording program. Though you can find many video recording tools on the market, not all of them offer the same level of service delivery. VideoSolo Screen Recorder makes me amazing. It has a professional technical team and give guidance and solutions when user meets problems. I think it worth for the affordable price: $39.95 for lifetime/1 PC. We respect technology and service. By the way, there is a trial version which enables users try most of its functions. So, why not have a try?