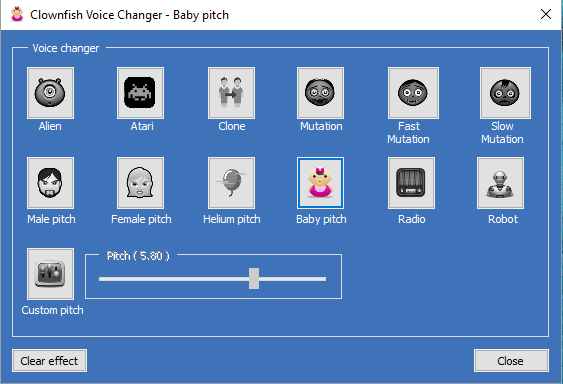 The gaming industry has seen great traffic of individuals looking forward to it as a full-time career more recently with the striking increase in demand of Discord. For the same reason, an increased expectation of new and fun content is in demand by the viewers. In this scenario, the Clownfish voice changer has got some fame. A lot of gamers are using the same app like a voice changing app. Clownfish app is mainly used as a third party voice changing application on the Discord app. 
However, the Clownfish application can be used with other apps too. So, let us discuss how you can go ahead with it.
Clownfish is an easy to use software but you need a compatible device for it. It doesn't consume much CPU power. As mentioned earlier, this app is mainly used with Discord. You might also take into consideration some basic requirements such as
A 32-bit or 64-bit Windows system of either Windows 7 or Windows 10 (recommended for avoiding lag and compatibility problems).
A 3.5mm microphone to be connected to your device.
Also, you might always want to have the latest version of Clownfish. 
The Setup Process
You can easily get the compatible version of Clownfish that is available for both 32-bit and 64-bit versions of Windows. The installation process is easy and takes about 2 minutes. But, the setting is quite a task. 
To start with you have to locate the Clownfish voice changer in your system tray and right-click to find the Setup option. You can use this to setup Clownfish for use across different apps such as Skype, Discord, TeamSpeak, and even Telegram. 
Even though you have the Clowbnfish app installed, you would need to install the actual voice changer feature separately. And this is why you require a microphone. In the Setup, you will have to install the microphone (already attached). In case, you already do not have a microphone installed, you will need to work out some extra steps. You will need to find the list of available devices in the sounds -> recording tab. Click on the mic and just set it up as the default device.
If you have your microphone installed already, you can move ahead with the following. You have click on the Clownfish icon in the system tray again and click "hear microphone." The clownfish voice changer being default has to be changed further. Just repeat what you did early and select "Set voice changer." 
Now, this takes you to options you have in terms of voice changers where you get about a dozen of options. You can also customize to create a completely different tone as you see fit.
Well, that is all, the Clownfish app is successfully installed and all set on the system. There is one last action to be done to verify the thing. Go to Discord, and next to "Voice & Video." In the voice settings, you have to check the input device as default. Here, if your mic is the default, that'll make sure you don't have to keep changing it repeatedly. You can also simply turn it off by selecting "Turn off" on your system tray icon. 
Features
Clownfish offers have some amazing features to offer to its users. These features and more make it more popular as a voice changer app. Some of these features are Alien, Atari, Clone, Mutation, Fast Mutation, Slow Mutation, Male pitch, Silence, Female pitch, Helium pitch, Baby pitch, Radio, Robot, and Custom pitch. 
Privacy 
Clownfish do further solidifies your privacy online. Since it is mostly used on Discord and is great for streamers as it set themselves apart from the rest of the competition and is also fun. However, above all, it is seen that Clownfish efficiently helps streamers maintain their privacy on Discord and all other VoIP apps.
Although a Clownfish voice changer does not guarantee your total online privacy as even a little gap in connection will make it vulnerable. You can take the help of some powerful VPN to strengthen your online privacy and keep your network safe from vulnerabilities.
This article covered a brief introduction to Clownfish and its setup. Further, we discussed some essential features and most importantly, the privacy concerns for the network connection.