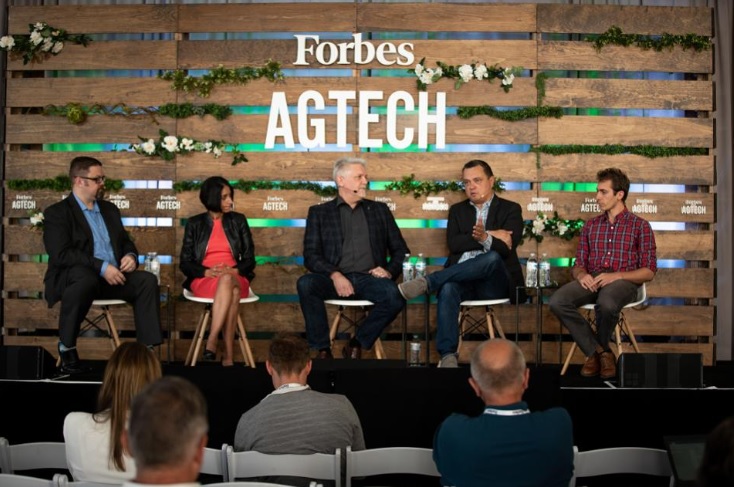 The question raised was how to teach a computer the characteristics of a good strawberry? AgShift founder and CEO Miku Jha answered; the way of teaching is exactly the same as one teaches the difference between a ping pong ball and an egg. "You give them a ping pong ball and an egg, and you keep telling them, 'this is a ball, this is an egg, this is a ball, and this is an egg.' Both are white, but eventually you figure it out. That's how our minds are wired".  The strawberry training program obeys the same. "We take hundreds of images of bruises in a strawberry, and we keep training the model that this is a bruise. 'Good berry, bad berry, good berry, bad berry.' That's it," she said.
Jha along with panelists such as George Kellerman, CEO and managing director of Yamaha Motor's venture capital arm Yamaha Motor Ventures; Arama Kukutai, cofounder and partner of agtech-focused VC firm Finistere Ventures; and Thomas Palomares, cofounder and CTO of an agricultural automation company Farmwise, discussed about the pros and cons of the robots and the plan for extending VC funding and building AI beyond the U.S. at the 2019 Forbes AgTech summit in Salinas, California.
Silicon Valley's VC money isn't still touched by the intersecting growth between Silicon Valley's technology and Salinas Valley's agriculture. Agtech struggles in searching for investments to flourish their companies. The investors are termed "sheep" by Kellerman.
The companies' failure in testing their innovations year-round is the major reason behind the failing iteration of agtech. The fixed harvesting periods are very little. The Salinas Valley is the location capable of countering this problem as it has low seasonality according to Palomares, who made the 2019 Forbes 30 Under 30 Manufacturing and Industry List for Farmwise. Robots are used to remove weeds using herbicides.
Harvesting cycle bound companies have other options available. This was a reason behind Kellerman and Kukutai's foreign invests in New Zealand, Ireland at Abundant Robotics, creating robotic apple harvesters.
"When it comes to agriculture and food-based AI, an additional challenge is that datasets have to be built from scratch. If you build an AI solution for a bank, for example if you're trying to do fraud detection, you have patterns, if you build an AI solution for a bank, for example if you're trying to do fraud detection, you have patterns" says Jha.
The automated robots aren't perfect and hence become infamous to growers as it might do 60% or 80% of what a human can do.
Kellerman strongly refused the concept that robots steal human employment; the main motive behind the introduction of a robot in any field is to reduce three things, according to him, they are labor, labor and labor.
"It wasn't about taking humans out of the loop; it was about filling a gap that exists in the market, a gap increasing slowly." Robotics is said to be improvising farming workforce and not substituting it.
"As Silicon Valley furthers its imprint on the Salinas Valley and other agricultural centers, farmers are also getting fatigued by all startups approaching them", Kukutai said. The trump card to get well established in the market is a recurring problem, whose solution is most needed .