When we use a web browser we need to perform a lot of common functions like opening new tabs, bookmarking a web page or grouping web pages on the web browser. Tab management extensions are available to ease the functions but these extensions are generally not fruitful but there is a new extension named GraphiTabs which works but differently. This extension uses the concept of tree where there is a parent tab from which child tabs emerge each time you open an URL from that tab. So once you get the entire picture, switching and opening tabs become easier.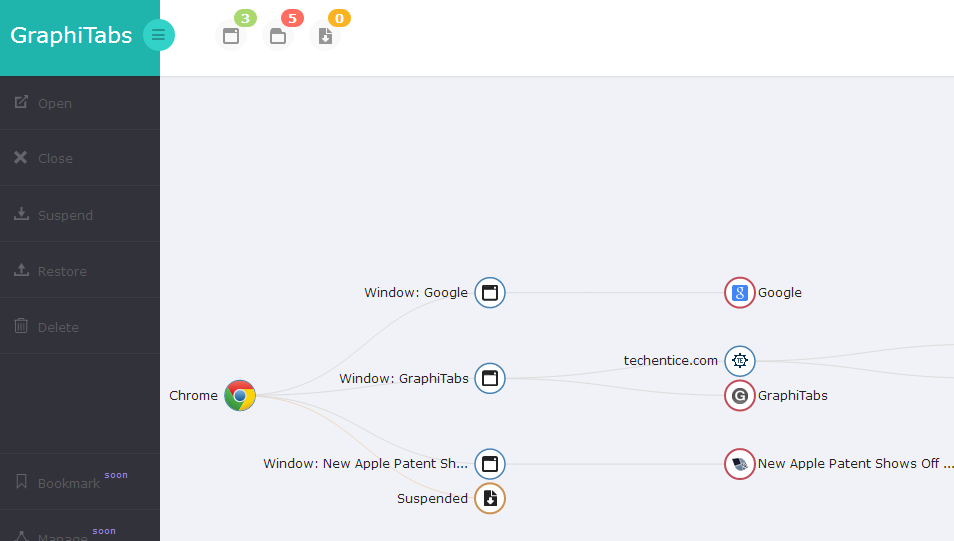 GraphiTabs is available in the Chrome Web Store. Every tab in the tree is preceded by the tag 'Window'. This tag represents that the opened tab is a Window. But the most advantageous feature of thus extension is that you can easily connect the path of a tab with it parent tab. This means you can understand from which parent tab, the new tab emerged. So your confusion will lessen and at the same time you have a better browsing experience. Besides, when you click on a tab, the path from its parent tab is highlighted. The extension facilitates a search bar that you can use to search open tabs. The wrench icon present is a reset button that returns the state of the extension to zero. If any tab has been suspended it can be resumed and you don't lose any tabs or windows in the process. The extension is reset and not the browsers.
Apart from the functionality, the user interface looks great. With connecting lines and graphs, it looks simply vibrant. A bookmark feature is also present and hence you can easily save the tabs via GraphiTabs.