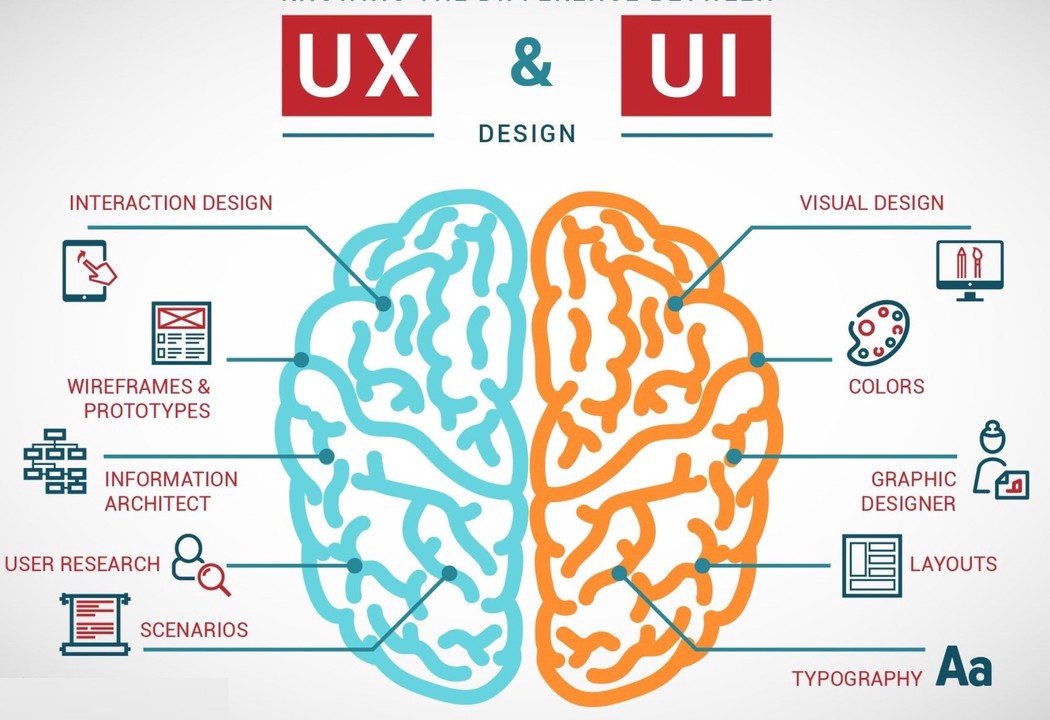 There are more and more job offers for professional UI/UX designers popping up. And people are willing to pay well for these kinds of services. So naturally, you want to know what the fuss is all about. And what are the requirements to perform such a job. It's never too late to change a career path and start doing something exciting and in demand. Let's talk about what it takes to become a UI/UX designer.  
Get to know the difference between UI and UX
The most important thing you need to do before you apply for a UI/UX designer position is to understand the job fully, and it's characteristics. You should begin by defining the difference between ux vs ui design because it is nowhere near being the same thing.
UI stands for" user interface", and it is the graphical layout of an application. It is creating buttons people click on, the text they read, and images or other interactive items. This type of design includes screen layout, interface animations, transitions, and every micro-interaction. You would be responsible for designing the visible elements, so you would choose how an app looks.
On the other hand, UX stands for" user experience". This is the interaction part of the design. Being a UX designer means creating the right experience while using the app. It is all about navigation within the application, and how easy or hard it is to work with it from a customer's perspective.
The difference between the two kinds of designs is that UI takes care of the looks, and UX is responsible for the operations.
Study the Tools
To be able to deliver proper design solutions, you need to work with many tools. They are your creativity, organization of work and specific software programmes. You should know quite a few of them to be able to do a great job on a daily basis. Different applications require different programmes. These are the most important ones you should be familiar with:
Adobe XD, for prototyping and interface design.
Balsamiq, for layout creation.
Invision app, for collaboration and prototyping.
Sketch, for interface design.
RedPen, for collaboration.
Figma, for interface design with collaboration capability.
Once you get to know how these apps work and you will be able to operate them smoothly, you can think of getting that CV ready.
Surround yourself with Design
If you desire to become a web designer, you need to get to know different structures and content of sites and apps. Pay attention to images, fonts, the colour scheme used, and find solutions that you believe work best. The right placement of buttons, logos is crucial for you to be a successful UX/UI designer. It would be best if you did extensive research before you even start thinking about doing your designs. A great way to dive into the world of design is to look at other people's work. Look out for popular portfolio platforms, like Behance, for example, get some inspiration and stay ahead of the web design trends.
Invest in Online Education
Listen, if you are serious about becoming a UI/UX designer, you will need to invest in your training at some point. Good news is, you don't have to enter Universities to get the knowledge you need. You can look up many videos posted on Youtube and learn new tricks. If you need more knowledge than that, you can choose an online course. There plenty of courses out there, that will change your status from a beginner to a design pro. Just remember to read comments and reviews before you decide on a particular course, you don't want to develop bad habits.
Read until you Drop
There are thousands of articles and books about UI/UX design. It would be a shame if you didn't read a fair share of them. Why? You want to stand out among other candidates for the job, and a wide range of sources read by you should for the job just fine. Go for field-specific titles, but also don't forget about self-development. The culture of your work, the discipline, are both just as important as your design skills when it comes to the highest level of performance. Also, read a little bit about creativity. Who knows, maybe you will create the next big trend in web design.
UI/UX design is most definitely a field that you can expect to be challenging and rewarding at the same time. If you are interested in design in general, or you want to develop new skills that will secure you a great job, UI/UX design is an option you can't miss. There is a massive demand on the market for this kind of specialist, take advantage of it. Do your research and create websites/apps that work perfectly for everyone.