Never know what's coming your way! We know that android being favorite to engineers and scientists, it has been already ported on all sorts of devices, ranging from the HP TouchPad tablet to the HTC HD2 smartphone. Ever heard android being ported on a graphical calculator?? Back in the day, we may never imagine a mobile OS running on a graphic calculator but it's possible. This is what a YouTube user named Josh Max has done!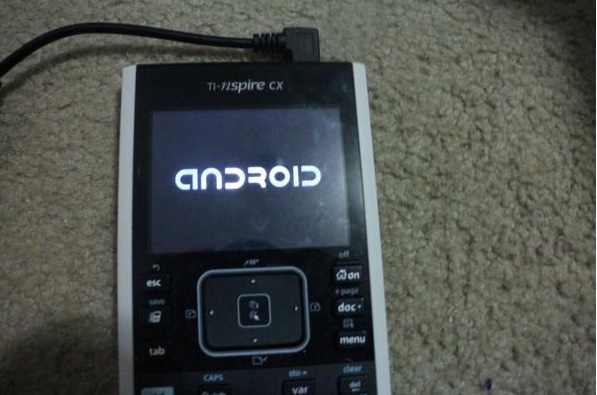 Josh has ported android on Texas Instruments TI-Nspire CX which is shown on a YouTube video. Josh (@joshumax) just wanted to see if Android could be ported on the calculator. He was able to run Android 1.6 Cupcake complete with video playback and keyboard working on the small screen.
Graphing calculator enthusiasts have been running custom programs and ported games on the relatively low-power hardware for decades now. Although this calculator is designed purely for calculating and graphing, people have gotten it to do so many crazy things like running Gameboy Advance games and all. Nspire CX is one of the more robust graphing calculators on the market with 320×240 3.5″ color screen, 100MB of storage, and 64MB of RAM and 150 MHz ARM-based processor. Although these calculators are pretty small when compared to even the earliest Android phones like the original HTC G1 which had 256MB of storage and 192MB of RAM, apparently it seems like it is just enough to run Android 1.6 "Donut."! Josh has also uploaded the open source files to GitHub.
Max has just not stopped at porting the android, he also has upgraded his pet project by adding keyboard support and Wi-Fi functionality via the add-on USB dongle. Amazing isn't it! There are so many cheaper and easier ways to get your hands on an Android device, but it's always impressive to see someone managing to get software running on device that clearly was not designed for!