Did you forget the password of your Windows 7 password and now wondering how to reset it to access your computer again? Well, truth to be told, if you forget the password of your sysbypass Windows 7 passwordtem then you won't be able to enter it and all the contents inside your computer or laptop will be inaccessible. Don't worry, the data in your computer is still safe, so do not try to format or re-install OS again because that will compromise all the files and documents inside your computer.
First of all, you need to know that it is possible to bypass the Windows 7 password by manipulating the security breaches and some tweaks. In this guide, we are going to share the methods on how to bypass Windows 7/8/10 login password but make sure to use these methods only on your personal locked computer and not for any criminal activities.
Method #1: With Command Prompt.
Microsoft has provided this feature in Windows 7 and later versions where you can reboot your computer in Safe Mode without entering any password and make any desirable modifications. We will take this as an advantage and will reset the computer password using this technique.
Step 1. Reboot your computer and press F8 to launch the Advanced Boot Options.
Step 2. Choose "Safe Mode with Command Prompt" and press Enter.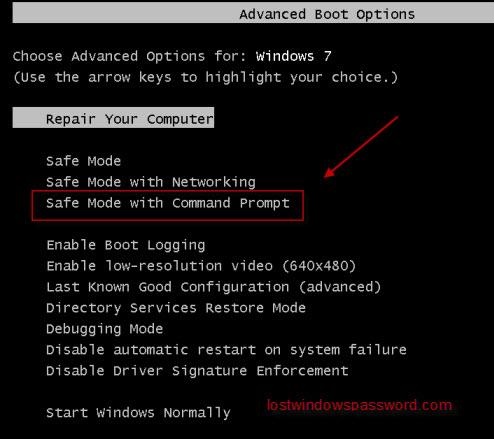 Step 3. Your computer will reboot normally now, but the screen will be totally black and most of the apps will be disabled. Do not worry, it is normal in safe mode because it has many restrictions.
Step 4. Now, click on Start > Accessories >Command Prompt to open the command window.
Step 5. Type the following sentence in the command window to change the password of your PC –
NET USER ADMINISTRATOR "New Password"
Replace "New Password" with any password of your choice and press enter to run the command successfully.
Now reboot your PC and use this password to make an entrance on your system again.
Cons –
Only works if your computer has another administrator account setup before got locked out.

Complex method and needs computer skills to perform this method.
Solution #2: Using Built-in Administrator Account.
If you have activated the built-in administrator account on your computer then resetting password will be extremely simple. Follow these steps to activate the account to reset your computer password.
Step 1. Start your computer and on the login screen, press the Shift key 5-6 times to launch the built-administrator account.
Step 2. Now, click on "Start" then go to Control Panel.
Step 3. Choose "User Profiles" and click on "Change Password".
Step 4. Enter a new password twice and save it.
Now restart your computer again and input this new password to access your PC.
Cons –
Built-in administrator account must be created before you forgot the password.

You must have administrator rights to apply this solution.
Solution #3: With Password Reset Tool
If the above methods are irresistible and you find it difficult to apply then don't get anxious because you can always use a Windows 7  Password Reset tool to remove the password from your computer.
Tunesbro – Windows Password recovery is that password reset that not only recovers your computer password but it completely erases it from the screen making it incredibly easier to enter into your PC. The basic principle of this program is to remove the login screen by setting the password into null. So, when you reboot the PC, it won't even show the password screen at all.
It is supported in Windows 7/8/10, Windows XP & Vista and even with older versions such as 2000/98/95.
Currently, it works with over 5000+ desktop computer and laptop brands which includes Dell, HP, Lenovo, Acer, and Toshiba and so on.
This password reset tool is super easy to use and only requires 3 simple steps to conquer your computer password.
First, get an accessible computer from your friends or families and install the password reset tool on their computer. Then, plug in a USB stick and launch the Tunesbro program.
Choose your USB driver name and click on "Burn USB" to make a password reset disk. Alternately, you can use a CD/DVD as well.
Secondly, insert the password reset disk into the inaccessible computer and reboot it. Keep pressing F8, F12 or Del key to launch the boot menu options and choose your USB stick name to boot from.
Finally, the password reset tool will appear on the screen and you only have to select the locked username and Windows OS version (Example: Windows 7) then click on "Reset Password" to erase the encryption from your PC.
Success! You can now access your PC and it is guaranteed that no data will be lost at all with this password recovery program.
Conclusion:
SAC or Safe mode only works if you have set up some different administrator accounts on your PC but it is observed that most people don't even bothered with it. So, the best option to reset your Windows computer is to use a professional password recovery software like Tunesbro – Password recovery pro to completely remove the password from your screen. Additionally, you can even use this tool to remove picture and PIN passwords from your PC as well.
Hopefully, you guys found this article thoughtful and don't forget to share it on your social media accounts.