Did you delete your Windows 11 Partition accidentally? If yes, then this guide will help you undelete it. Using the right set of software, you can recover all the lost partition data and bring back the partition. Read our ultimate guide on how to undelete Windows 11 Partition.
While not uncommon, sometimes, you remove one that you didn't want to remove when managing Partitions. If this is the case, you are not alone. Windows offers a built-in tool – Disk Management – which allows you to manage everything when partitioning. However, when inexperienced users try it, it results in total data loss.
The post will help you not only bring back the lost partition but also recover data from it. So, if you are wondering how to undelete Windows 11 partition, you should follow our guide.
Causes of Partition Lost
Apart from accidental deletion of partition, some others reasons cause partition loss. The list includes
Hard drive corruption. Virus attacks. Malware activities. Improper system shutdown. Power surge. Improper format. Partition table damage. . There are more reasons, such as an accidental drop of laptops, power failure, hard disk damage, etc., which results in Windows 11 Partition deletion.
You need to be sure to have a backup of all important data before this unfortunate event occurs, but not everyone does that. This guide offers ways to get back the partition and also set up a backup system in place. This way, you will be able to recover the deleted partition even if you have lost all the data. You can even recover the data from the deleted drive.
How to Undelete Windows 11 Partitions Easily
It is important to know that it is not completely removed when a portion is deleted until a new one is created. It is only removed from the access of a general user and the OS. The information of such deleted partition is available on the hard disk. It can be recovered using some partition recovery software such as EaseUS Partition Master.
It's a professional application that offers more than simple disk management. The software is easy to use, offers an interface that makes sure there are no accidental deletions, and helps you recover lost partitions. Here is the list of features the tool offers:
Adjust the size of a partition to a larger or smaller one using the slider.
Merge partitions into a larger one without any loss of data.
Organize and optimize your hard disk performance.
Clone and migrate partition to the unallocated space.
Resize/extend/shrink/create dynamic volume easily. 
Recover Lost partition.
The software, once installed, will scan the connected hard drive and then list all the partitions. The one that is marked as Good exists, and while those marked as Lost are those which have been deleted.
Step 1. Open EaseUS Partition Master and click "Partition Recovery". Select the target disk with your lost partition and click "New Scan".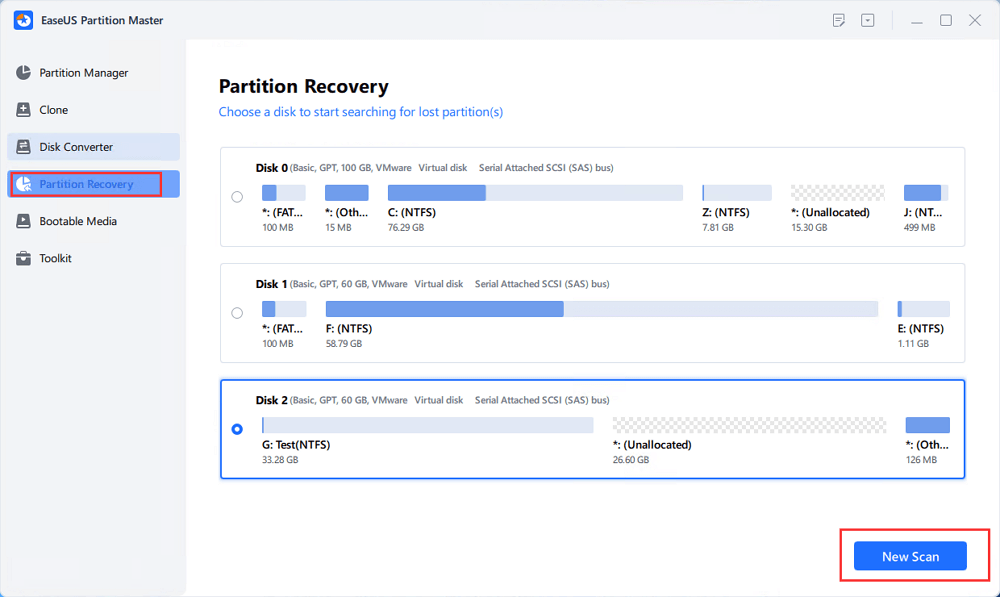 Step 2. Wait patiently to let the software execute "Quick Scan" and "Full Scan" operation. It will mark your deleted partition as "lost" as the Status section. Select the lost partition, and click "Recover".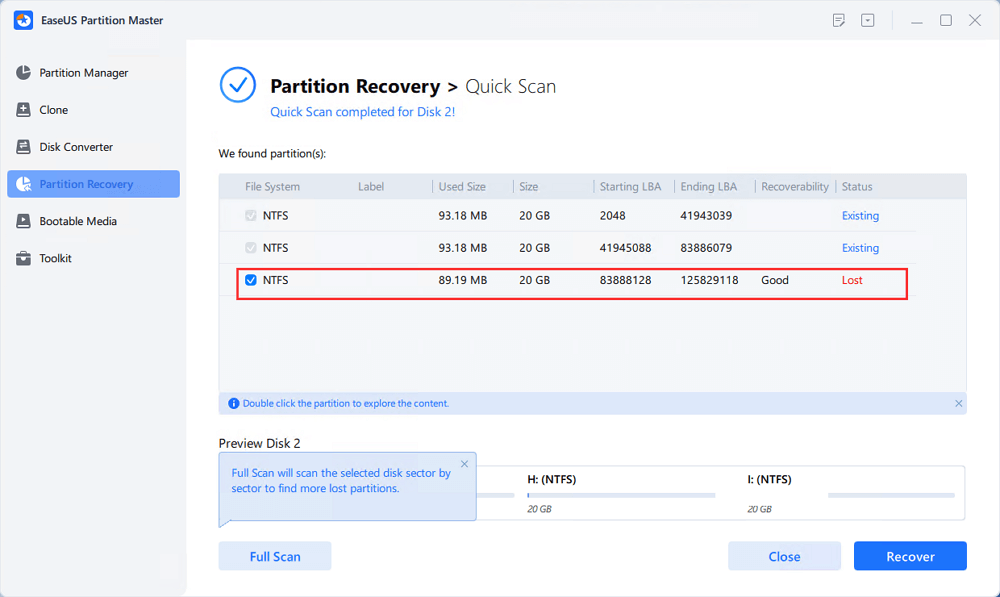 You can also double click on the partition you're looking for to preview its content and click "OK" to confirm.
Step 3. Wait patiently and click "Done" when the partition recovery process completes.
If there is a conflict restoring, the software will offer options to recover essential data and then recover. However, this should be the last option when it comes to Windows 11 partition recovery.
Conclusion
The restoration of lost partitions is typically achievable only through the use of professional-grade software. Windows, unfortunately, does not provide an inherent method for such recovery. Your only other option would be to rely on a previously created backup, if available, to restore these lost partitions.
This is where a professional software solution such as EaseUS Partition Master proves invaluable. By facilitating the 'Undelete' function in Windows 11, it ensures the recovery of these elusive partitions. EaseUS Partition Master is equipped with a user-friendly interface, designed even for those with limited technical knowledge.
Furthermore, the software comes with a preventive mechanism against accidental deletions, ensuring that your data remains secure during the recovery process. All in all, EaseUS Partition Master presents a comprehensive recovery solution to tackle the issue of lost partitions effectively.