When you are asking for a Windows 10 tablet with a detachable keyboard and stylus, the devices that first come to our mind are the Surface tablets. With ultimate finesse, these tablets cost around $690. If you have the wish to own such a device but have restriction on budget then Jumper EZpad 5SE is for you. Chinese manufacturer Jumper Epad 5SE is selling a Windows 20 tablet with detachable keyboard and stylus which can be used in several modes. The best thing above everything is the price $195.25 which is right now on sale at Gearbest.com.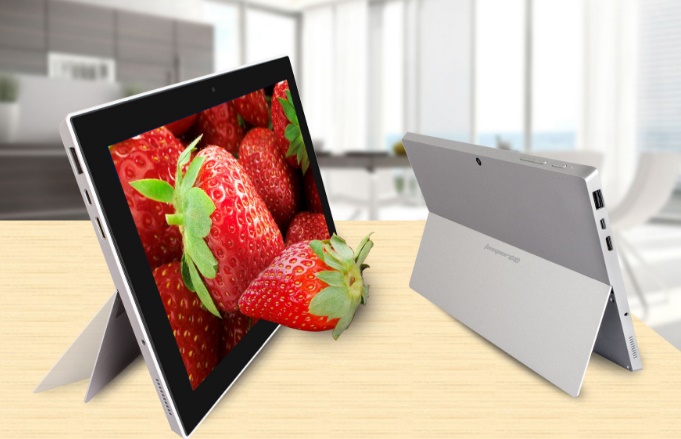 Another interesting feature is the support of both Android and Windows 10 operating system. You can either install Android OS or the latest Windows 10 operating system. To put it in simple words, those who are expecting another Surface device at a cheap price will be highly disappointed and the first thing that will strike you is the difference in the aspect ratio of the two devices. The device comes with 10.6 inch IPS Screen with 1920 x 1080 Resolution which is pretty good achievement for the price you are paying.
Now the next important aspect is the processor. Jumper EZpad 5SE is powered by Intel Cherry Trail Z8300 Quad Core clocked at processor speed of 1.44 GHz, can be increased up to 1.84 GHz. The device claims that the Ultra-low-voltage platform and quad-core processing provide maximum high-efficiency power to go. The HD Intel Graphics will facilitate users to shared video memory provide high image quality for Internet use, basic photo editing and casual gaming. The Graphics has been optimized for performing in low voltage.
For any tablet, memory becomes a big thing because we tend to use them as laptops but limited memory becomes a bar. For Jumper EZpad 5SE, the issue is solved to a great extent. The 4 GB DDR3 RAM provides smooth and fast working experience along with flawless multi-tasking ability. The tablet sports an on-board storage of 64 GB with a SD memory card slot expandable up to 128 GB. The memory card is not included.
The tablet includes front and rear cameras. Rear camera has resolution of 5 MP and full HD. Other features include Bluetooth 4.0 and 802.11n Wi-Fi, and on both sides, a mini-HDMI port, a pair of speakers, a headphone jack, an SD card slot, one USB 2.0 port, one USB 3.0 port and a microUSB one. The device which is on sale at Gearbest.com does not include the keyboard as shown in the image. So, kindly confirm before purchasing.
In a nutshell, the device is obviously better than an average tablet in terms of features and performance. A combination of Windows 10 OS with high end processor and low cost is definitely very rare and thus it holds a place of its own.