UC Berkeley has developed an Android application called MyShake that can turn your Android smartphone into an earthquake detector. The MyShake app uses the phone's motion sensors to detect earthquakes. The app detects the tremors and displays the result. It combines data from from all users. To use your phone as the seismometer, all you need to do is keep the app turned on in your phone. You the become a part of a crowdsourced seismic station network.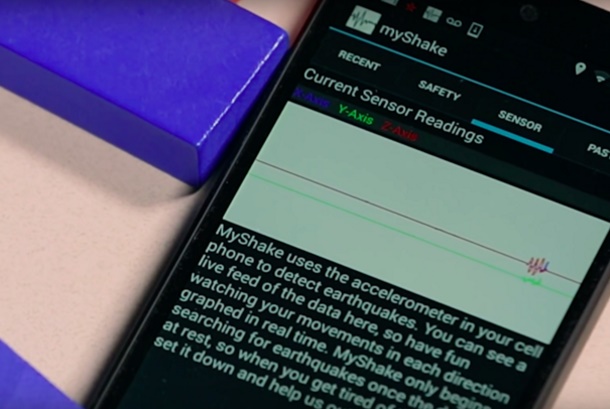 The app is ready for use but once it is functional, the UC Berkeley will try to incorporate technology that can warn users about a suspected upcoming earthquake. The MyShake app is a part of the research project that aims to reduce the impact of future earthquakes. The app will collect data from the app users and this real time data will be processed and used at the Seismological Laboratory of UC Berkeley.
The app will fetch the best result when the phone is put on a flat surface at rest. Whenever the earthquake hits the area, the phone captures the data that are displayed on the Readings. The system of the Seismological Laboratory will identify the process beneath the earthquake, how the buildings are responding to the earthquake. Another benefit of this application is that a larger number of data is obtained compared to the traditional seismometer.
The project undertaken aims to put forward a life saving tool. There are plans to launch the app for iOS also. You can download the Android app from here.