Sony has launched its new augmented reality glasses SmartEyeglass Developer Edition SED-E1 and will be going on sale very soon! SmartEyeGlass SED-1 which is a direct competition to Google's HoloLens will be available in 10 countries this March, and pre-orders have already opened in the UK and Germany at $840 apiece. The bulky looking binocular display eyewear weighs about 2.7 oz (77g) and manages to superimpose monochrome text, symbols and images in your field of vision.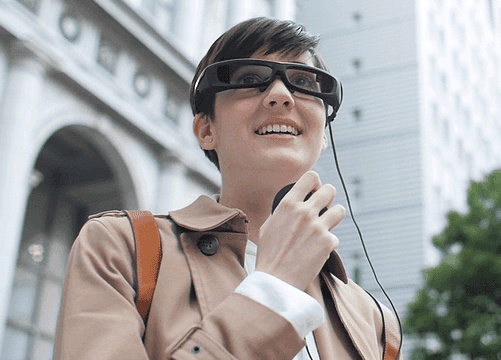 Following are the pricing for the glasses according to locations (price excluding taxes):

 United States: $840 USD
 United Kingdom: £520 GBP
 Japan: ¥100,000 JPY
 Eurozone: €670 EUR

Earlier, Microsoft had earned some buzz when it introduced its Hololens augmented-reality glasses device with its users claiming to experience something like "Please put your phones, cameras and laptops in a locker, and we will then measure the distance between your pupils!!" However, Sony is stepping things up in double time, with the launch of its SmartEyeglass which is expected to be more advanced with various features!
SmartEyeglass is designed to be connected to an Android 4.4 device, via WLAN and Bluetooth. With 3MP camera that can capture pics and videos (at QVGA resolution with no sound), it has limitations on its battery life. Under normal conditions, you'll get up to 150 minutes of usage; if you're using the camera, usage may drop to just 80 minutes. The company also warns that ambient temperature, using Wi-Fi, and the type of smartphone you connect the device to, may all drain the battery faster as well. The device gives wearers a video overlay on top of their vision that provides relevant information like directions — it also has gaming potential in terms of location-based apps like Google's Ingress. Its demo video shows that Sony's device acts primarily as an extension of your phone. It shows directions and text messages in a dreary green-and-black, and a cord dangles down from the side to a handheld controller dongle that you use to interact with the on-screen information.
Sony claims that the device offers "true augmented reality" (AR), with support for third-party apps, enabling software creators to do their thing is precisely what this Developer Edition device is for. The company has released an early software development kit (SDK) to facilitate the creation of new software also has a host app on Google Play.
Those who thought Google Glass to be less than stylish will surely have words to say about the even chunkier and somewhat beastly Sony device. Sony admits that it isn't going for mass-market appeal with this release. It just wants to get developers working within its ecosystem and will be hoping that its new glasses attract the attention of developers, to help it build out a more complete AR platform, and also to help it to identify new usage scenarios for the device – both for consumers and business customers.
However, not everyone can use these advanced glasses!! If you are already wearing other glasses, it's not possible to wear SmartEyeglass. Also, you may not be able to use this device if your interpupillary distance (the distance between the center of your pupils) are outside the range 54.5 mm (2 1/4 in) to 72.5 mm (2 7/8 in). So beware before you go for Pre-order.