At the global event held on New Delhi, India, Xiaomi has launched its latest brand new smartphone Mi 4i at an unexpected and affordable price of only 12,999. It supports LTE on both dual sim and supports up to 16 LTE bands. The Mi 4i will debut in India on April 30th with a dual SIM model. It is initially customized for India but will be released in other Xiaomi market in the near future.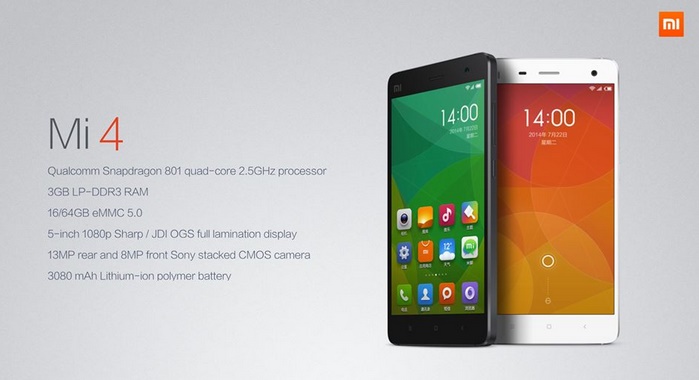 The 5" 1080p full HD Sharp/JDI display smartphone runs on Android's Lollipop will be available in white colour but soon will have the colourful version. It even has the latest Sunlight Display that adjusts the contrast and makes it readable even in sunlight and protected by Corning OGS glass. The smartphone features 2GB LPDDR3 RAM with Qualcomm Snapdragon 615 octa-core 64-bit processor. The processor is best for multitasking and it is paired with an Adreno 405 GPU and support for OpenGL ES 3.0. The configurations and features that Mi 4i provide, makes it best suitable for 3D games. It has 16 GB on-board memory without expandable storage. The smartphone is quite thin with 7.8mm waistline as well as light weighing just 130 grams. The camera feature is even quite impressive with 13MP Sony/Samsung camera and f/2.0 intelligent two tone flash. It's not all about rear camera, now selfies also be more attractive with 5mp front camera and Beautify, a gorgeous built-in tool that makes your selfie more lively and young wrinkle-free. Beautify has 36 smart profiles for an all-natural glow. It has 3120mAh battery with Quick Charge that charges up to 40% in an hour, highest battery capacity while maintaining the slim outlook. It got an incredible MIUI operating system and powered by Android L. and the most surprising fact, all this package will come for around $200 and sums to 12,999 INR.
Innovation has made Mi 4i more compact, yet affordable. Mi 4i is not a flagship smartphone; instead it is a successor to Mi 4. And after the huge success of Mi 4, we are hopeful that the cheaper variant of Mi family will hit the market.