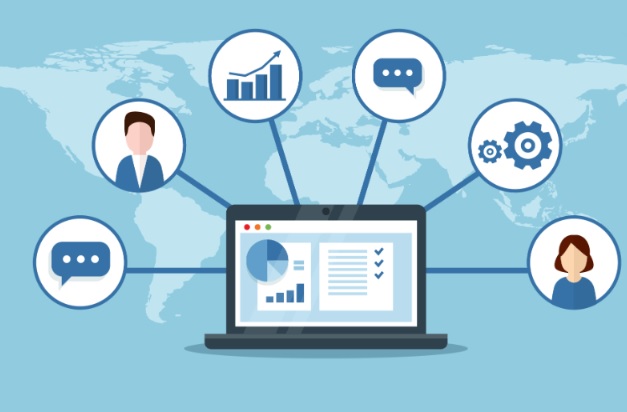 In any service-oriented business as well as product-oriented business, customer satisfaction is the key to success. Thus, it is of great importance, that sales-based companies adopt a system to manage their most important assets, that is, customers. There is a system that can manage all your valuable customers in a more unambiguous manner. It is the CRM system or the Customer Relationship Management System. A CRM is nothing, but a combination of certain technologies and strategies used to study and analyze customer data and interactions, so that the company can work towards creating a strong and amicable relationship with the customer base, in order to leverage their sales. There are several potential CRM software applications, that can help you establish an unequivocal and steady sales growth. The function of CRM software is to collect and compile customer data across different media and point of contacts, such as, telephone, live chat, email, newsletters, company's official website, social media, etc.
A CRM software primarily comprises of a CRM database which contains all sorts of data related to the customers. The transparent and efficient management of customer data helps the salespeople to boost their sales. In many researches, conducted by financial organization, it has been found that the growth in sales has increased dramatically, ever since they have adopted a CRM software. So, you understand the importance of a CRM system. Before investing in a CRM software, many companies are inquisitive, whether they should be investing in a CRM software. Here are 5 reasons that will justify the need of a CRM software.
5 Reason Why Sales People Should Use CRM Software
1. Sales number has been found to increase dramatically. Tech News World published an article which indicated that more than half of all businesses (54%) could better their sales with CRM.
2. A Secured Centralized Storage System: CRM software provides you a secured, centralized storage space where users can enlist all sales opportunities, contacts, scheduled plans, activities and so on. Users can have seamless access to the database anytime anywhere.
3. A CRM software helps you immensely in time management. Since all you required data is at your hand in a centralized database, you can easily keep tracks of all meetings, plans, communications. All these lead to an efficient time management.
4. If you are employed in sales sector, you will know the significance of activity reports. You can easily create weekly and monthly reports and share with your colleagues whenever required.
5. Creates a Robust environment for Sales Moves: A thorough analysis of the customer records stored in your CRM software database, will help you to know the exact requirements of the customers and when they should be contacted. Let's cite a simple example, we always need to contact customers, when there is an end-of-season sale or a special festival offers like Halloween offers, new product launch, renewal of contracts, etc. All these increase the chance of improving your sales. Thus, a CRM software can streamline the sales cycle and ameliorate the sales processes and sales pipeline.