DVD Writers and Drives are now becoming obsolete day by day. We have USB, cloud, and then the internet. We literally don't give importance to DVD drives, but there are some situations where DVD drivers will be required. For example, some important softwares, some personal videos of wedding, birthday or any vital data are stored in DVD that have become old. So the best solution is to back up data from the old DVDs and copy them to a Blank DVD. Yes, there are plenty of applications available in the market, but the one were are reviewing here is the WinX DVD Copy Pro. This software is a product of Spring Digiarty.
The software has the folliwng important properties:
clone DVD to DVD disc for safe storage of software, operating systems, etc.
copy DVD to ISO image for later burning, playing or ripping
It can also copy DVD to MPEG2 file with intact content for further usage in media center. DVD library establishment and DVD playback in PS3, HTPC.
Equipped with ISO mounter and DVD burner, this DVD copy software can also help mount ISO to a virtual drive and burn DVD to DVD.
WinX DVD Copy Pro has unlimited access to all region codes and read-only DVDs.
It works even for extremely scratched DVDs, and faultlessly supports Disney's Fake, Sony ARccOS bad sector
See how to backup scratched DVD to new DVD without quality loss.
In the following lines, I will give you a brief guideline about using the software. But before that, have a look at the exciting Giveaway offer by Digiarty. Digiarty is giving away DVD Copy Pro that will help you 1:1 renew old DVD for free. All you need to do is visit the website and enter your email to get the License code. The license code will be sent to you absolutely free of cost. This means you won't have to buy the software. You can use the full version for free.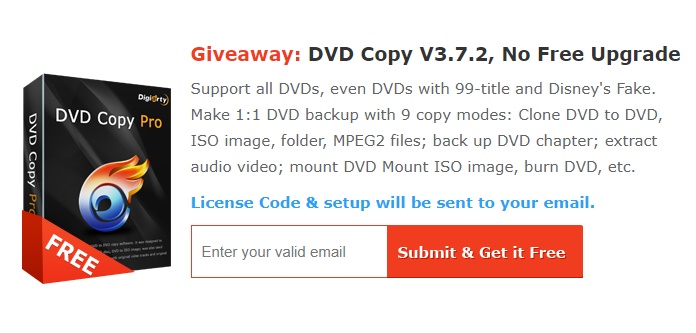 1. Download the Digiarty WinX DVD Copy Pro software and run WinX DVD Copy Pro .exe file. Follow the instructions that come to you. You will be prompted to follow several easy instructions, like selecting the preferred language, accepting terms and conditions and some other customization options like desktop shortcut, quick launch menu, etc. Now select the installation option and start installing. The installation will be complete in less than a minute.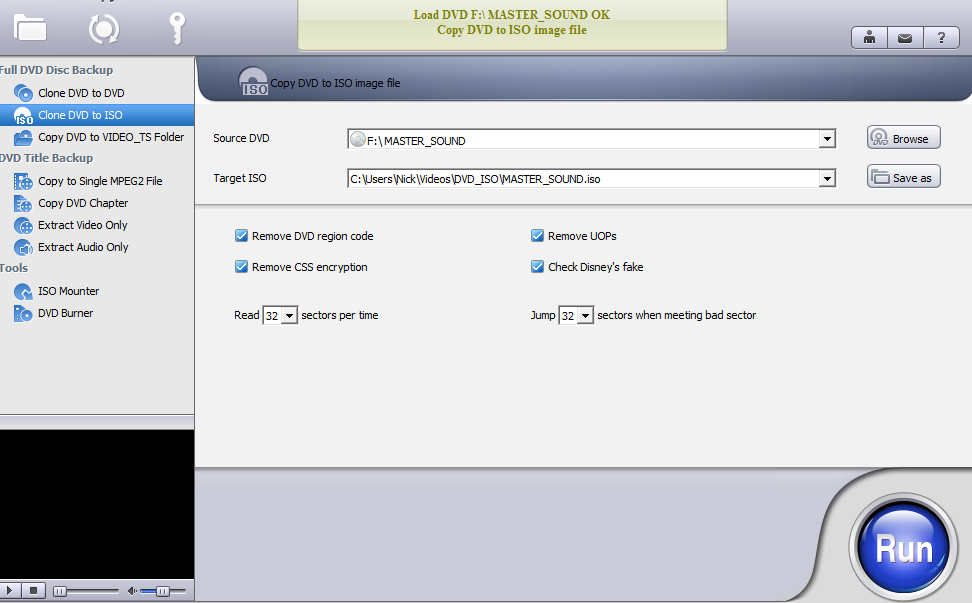 2. The user interface shows all the options you need for the backup. In the left panel, there are some vital menu options. You have to select the full disk backup type. For, example, if you want to create an .iso file from the OS DVD, then select DVD to DVD. IF you want to backup movies from a DVD to your PC, then select DVD to Video folder. If you wish to backup and copy content from one DVD to another, then select DVD to DVD option.
Tips on how to backup old DVD to black DVD with WinX DVD Copy Pro
Step One: please firstly insert the old DVD in to your hard drive. The Source DVD has a browse option which can be used to include the old DVD. If the DVD is already inserted then it is expected that WinX DVD Copy Pro will auto-detect it.
Step Two: Now coming to the second option, the target menu. This menu will change to target ISO if you want to copy ISO files, and will change to folder if you want to copy the DVD data to your PC.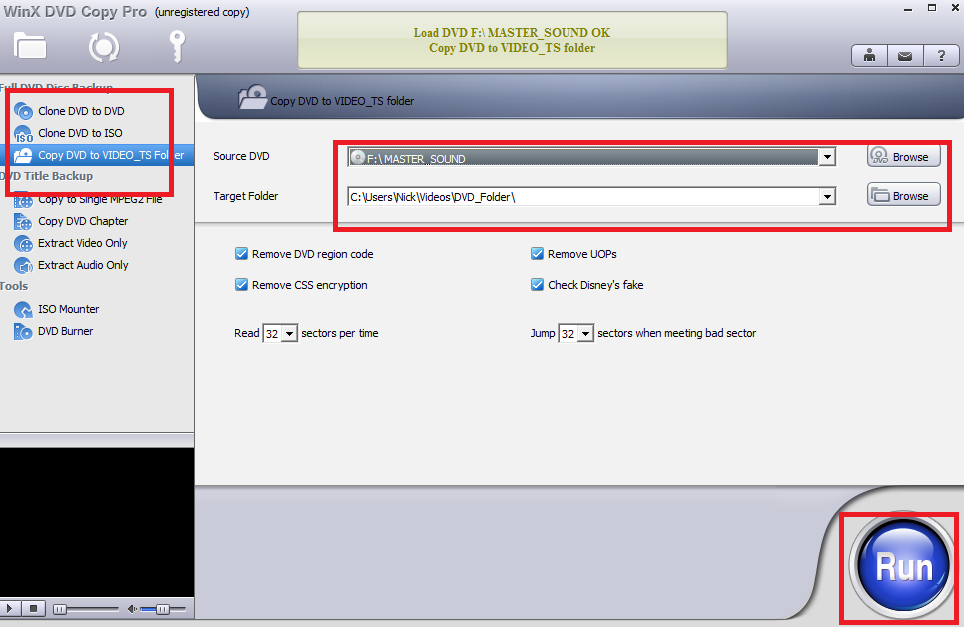 Step Three: Now simply click on the big RUN button once you have made your decisions.
You will be notified once the DVD backup is complete. The WinX DVD Copy Pro is a well structured software that can backup old DVDs to PC, to new DVD in a jiffy. There is a plethora of options by which you can customize your backup and copy process. The backup process is lossless that is, the data is copied without degrading the quality of the old DVD. Not only that, if the old DVD is a scratched one, the WinX DVD Copy Pro can flawlessly repair the damaged DVD and backup data from that also.
I would always recommend my viewers use Digiarty WinX DVD Copy Pro.
About Digiarty Software:
With 11 years of experience in the industry, Digiarty is now a leader in personal and home-use video
audio applications based on Windows and Mac OS. It provides fast and easy-to- use Mac DVD
ripper/copier/creator, video converter, online video downloader, media player, iPhone file manager, video audio streaming app, etc.