A team of researchers from the UC Berkeley's College of Environmental Design has made a 9 feet high, 12 feet wide and 12 feet deep 3D-printed building, the freestanding Bloom Pavilion that has a traditional Thai floral motif design. This is not the first 3D printed building. Then what's so special about this building? This is the first and the largest 3D-printed cement structure that is made using the powdered cement. Previously there was a 5 stored apartment block built using 3D printed parts. In 24 hours, the Chinese company has built 10 houses. There is another 3D printed castle in Minnesota. All these were created by forcing out wet cement through a nozzle. But for the very first time, powdered cements were used to create the 3D printed structure.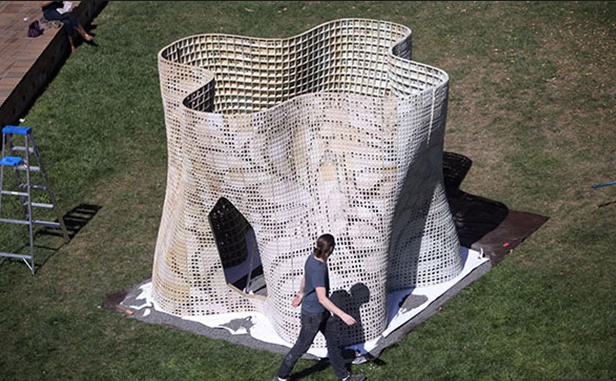 The Bloom Pavilion is composed of 840 customized blocks that were 3-D-printed using a new type of iron oxide-free Portland cement polymer formulation developed by Rael. Bloom is the 3D-printed cement polymer structure that overcomes the limitations of previous 3-D-printed architecture. The UC Berkeley research team was led by Ronald Rael. According to him, they "are mixing polymers with cement and fibers to produce very strong, lightweight, high-resolution parts on readily available equipment; it's a very precise, yet frugal technique." It increases the speed and reduces cost of production as well as it has some aesthetics and practical applications.
Bloom Pavilion was carried in pieces from inside the Wurster Hall to the courtyard and then it was assembled to create the full structure. After its debut that was on March 6, the architecture will be disassembled and shipped to SRI in Thailand to the team's sponsor. Bloom will be exhibited and it will be on display there for several months. It will not be limited to a particular location. It will be travel to various locations around the world after being displayed in Thailand.