This picture is not a hoax, not either a photoshopped or superimposed picture of a normal fridge. It's the new smart refrigerator that Samsung is going to showcase at the CES 2016. The CES entrance will be full of posters of this beautiful fridge with a giant screen just like that of a smartphone. The specifications of the fridge are not yet clearly known but it has been reported that the smart refrigerator has capacitive buttons and capacitive display. The operating system installed in the fridge is also not clear. It is expected to be Android or Tizen but may be something else also.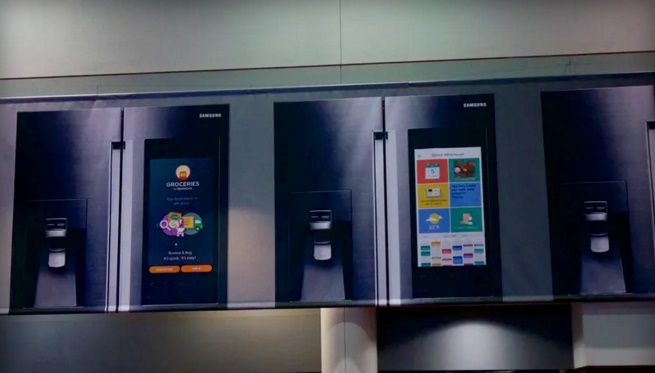 The screen shows the UI that looks exactly like that of an Android smartphone but probably Samsung will install different and unique user interface. This is not the first smart fridge launched by Samsung but this one is creating a blend of the features of old smart fridges along with the new cutting edge technology.
The smart refrigerator will provide you the capabilities to make grocery lists, read news, listen to music, and create digital Sticky note reminders. It appears that Samsung will incorporate voice input support just like Cortana, Siri or Google Now. The fridge is customizable to a great extent and you can also keep track of what's in the fridge, the ice box. When you put vegetables inside it and record the time, it will remind you the expiry date as it arrives. The images also shows screen featuring "Groceries by MasterCard", Pandora, calendar, and weather features.
The CES 2016 or the Consumer Electronics Show 2016 will be held from 6 Jan to 9 Jan 2016 at Las Vegas. Many other companies will launch their consumer electronics products at the event.