Narita International Airport opened a terminal for budget airlines Wednesday as it courts a growing number of low-cost carriers for domestic and short-haul overseas flights. The airport, serving the greater Tokyo area, inaugurated its third terminal at 3:30 a.m. with a countdown and applause by a crowd of around 100 terminal users.
Narita airport's terminal 3 is connected with color-coded running tracks completed well in advance of the 2020 Olympics in Tokyo. In fact, the project is designed to help accommodate the increased footfall in 2020 by making it easier to find your way in the airport. It's pretty simple: blue leads people to departures, red takes them to arrivals. Airport's new terminal has been designed around an indoor running track. The color-coded circuit, which links the entirety of the scheme, not only helps with way finding, but also provides a comfortable walking experience throughout the terminal's interior.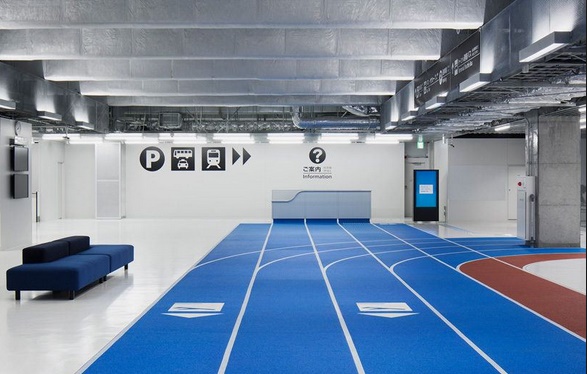 Terminal 3 which was completed by Japanese creative lab PARTY – alongside retailers muji and consultants nikken – the collaborative team focused on creating a low-cost airport in terms of both architecture and interior design also comprises a three-story main building and a two-story satellite facility and corridors occupying a total space of roughly 66,000 sq. meters. Consequently, the terminal is unusual in that there are no moving walkways or illuminated signs, but instead a system of red and blue running lanes connects the project- blue pathways for departures and red for arrivals. While blue lanes are for departures, red is used for arrivals. These colored surfaces play an essential role in way finding. Retailer muji were responsible for furniture design.
It is beautiful, refreshing and it seems so practical. I especially like the floor materials having walked through many an airport. Also the signage, delineated walkways or lanes, all look wonderful! Were the words from passengers from Airport! Well make sure to experience these running tracks when you in or around Tokyo!