EaseUs Data Recovery Data is one of the best data recovery software applications available at the market. In short, it's very efficient and extremely user friendly. Apart from providing a user friendly interface, the app is versatile and supports not only Windows PC data recovery but also USB Flash Drive and SD Card data recovery. Let's now see in which cases will this app be useful! Suppose you have deleted a file from Recycle Bin or directly deleted by pressing Shift+Del. EaseUs Data Recovery can retrieve such type of lost data. Take other instances like a damaged Hard Drive, formatted SD Cards, Mobile phones, Digital Cameras, a crashed operating system or deleted or damaged partitions. In all these cases, EaseUs wizard can efficiently recover all such data files which would otherwise remain unrecoverable.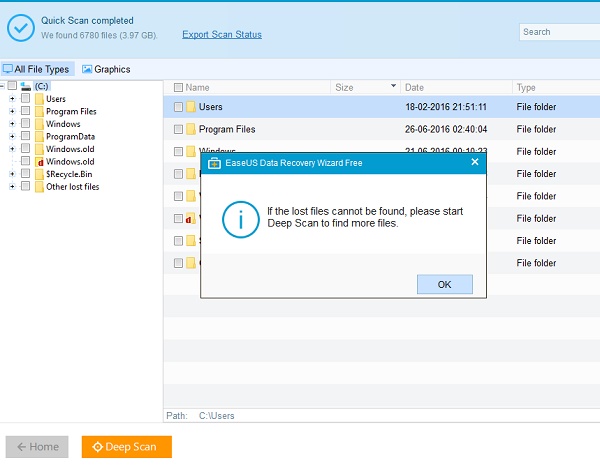 EaseUS Data Recovery Wizard is compatible with dynamic disks and different Window File systems like FAT, NTFS, EXT and many more. One of the properties that keeps this EaseUS product separate from other recovery tools is the robust recovery system which automatically skips some buggy parts of the system to give you a quick result. If you are now wondering what if it fails to provide the recovered file because of skipping, then there is a more advanced solution called the Deep Scan. Sometimes, owing to skipping of bad sectors, the files you are looking for may not show up. In that case you can choose Deep Scan undergo a thorough scan.
Easeus Data Recovery Tool is availabe in both free and paid versions. It supports 1 GB of recovery storage but for free version the limit is only 500 MB. The app is available for all versions of Windows from Windows 7 to Windows 10.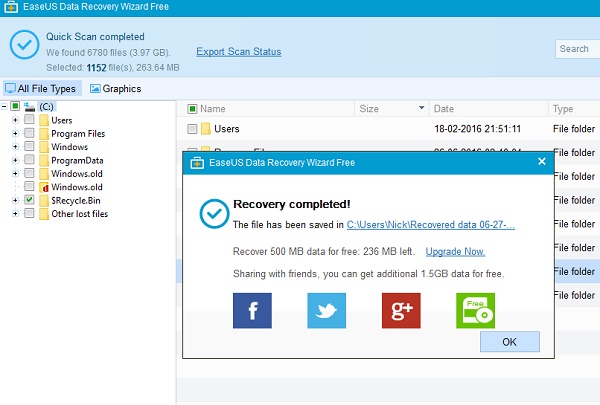 The first step is to download the EaseUs Data Recovery Software. Then launch the exe file. You will get several options to choose from- to scan different file types like Documents, Graphics, Audio, Video and other file types like archives. Now select the file type/types you want to scan. Choose the drive and folders that you want to scan. Now when you choose the Scan option, scanning will initiate. The scanning process will consume some time and then display you the resulting folders that are available for recovery. If the folder, you were looking for isn't there, then perform Deep Scan. EaseUs provides you several recovery options like Deleted File Recovery, Complete Recovery, and Partition Recovery. I tried recovering files from the Recycle Bin, which were mostly image files. Within few minutes, the files were scanned, recovered and stored into a location selected by me.
The best thing, according to me, of this app is the quick recovery process. you don't need to wait for ages to get the recovery process complete. Another plus point is the easy to understand Help Option. The EaseUs Data Recovery Wizard costs $69.95 which has many more features and recovery space than the free version. We reviewed the free version and it's simply great!