A funny bug in the Facebook has been encountered by users when they found that Facebook is congratulating them for 46 years of friendship with other users. It's truly funny because Facebook is just 15 years old and users Facebook friendship need to be at maximum 15 years. Facebook counts friendship between two users from the date on which the both persons became friends on Facebook regardless of the actual friendship duration between them.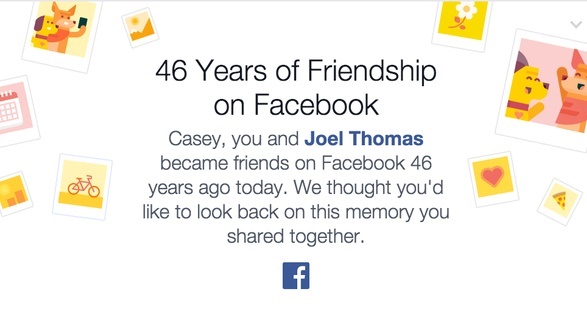 So the bug made everyone ROFL for a while. Facebook has accepted the responsibility of the bug but preferred not to hold any specific person responsible for this menace. "We've identified this bug and the team's fixing it now so everyone can ring in 2016 feeling young again," said a Facebook spokesperson to a popular tech news channel.
The exact reason for the bug is not known but according to some tech experts, the underlying reason is something known as the Unix Epoch. The concept of Unix Epoch is quite complex but to explain it in the simplest possible way, it's the number of seconds that have elapsed since 00:00:00 Coordinated Universal Time (UTC), Thursday, 1 January 1970. Unix is the backbone of most of the servers across the world and if you calculate Jan 1, 1970 is exactly 46 years ago. This means that if the digital clock resets itself by the end of an year, accidentally, then the entire timestamp will start again from Dec 31st 1969. This was exactly the fiercely anticipated Y2K problem which created a stir that on arrival of 2000, the time will reset and there would be no difference between 1900 and 2000. It seems that Facebook also encountered its own version of Y2K stuff. However Facebook is working and will sort out very soon.