Often we are inquisitive about which gaming console to choose between PS4 and Xbox One since both these devices are immensely lucrative. But our limited pocket size refrains us from enjoying both these consoles. Gamers who doesn't care for money and want to have taste of both, Console modder, Ed Zarick, has consolidated the two gaming consoles into a single device known as PlayBox.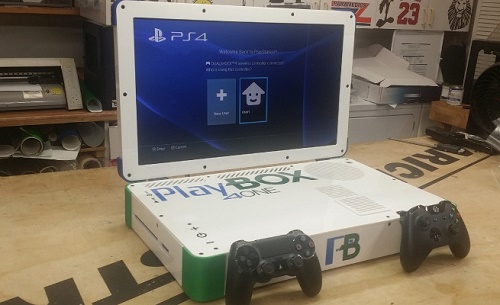 He compressed both the Xbox One and the PS4 into one large device PlayBox. Previously he made similar device with Xbox One and PS 4 but as separate huge laptops. Now it has turned to a 21 inch screen humongous device. The consoles are separated internally but both will render the same display. There will be support for HDMI port to connect to an external display.
Zarichkhas not mentioned any price and above all PlayBox is not for purchase by public. Zarick, however said that he will be trying to get some more devices squeezed for extremely interested gamers. But we guess the number will not even be handful. The price is going to be 'not-for-everyone' which is rumored to be around $1500.