Everyone loves FREE stuff! But you better be fast when our Coin Grab starts! Get awesome points, cool coupons and even FREE Gifts. Gearbest.com is always known for selling amazing electronic gadgets at even more amazing prices. Coin Grab event of Gift Rain is definitely the most exhilarating experience that customers can have. The Gift Rain sale storm start with a Bang from November 7, 2016 and continues up to November 15, 2016. You will be thrilled to see the prizes customers are getting. Gift Rain holds a Coin Grab event that lets you catch Gold Coins and you can win a grand Xiaomi 5! Gifts include cool stuffs and gadgets from popular companies like Oukitel, Cube, Teclast, EIE, Yundoo and Syllable. Besides, there are copious gift coupons that customers can win. Now before delving into the Coin Grab Quest, have a look at the important tips that may help you get your desired gadget.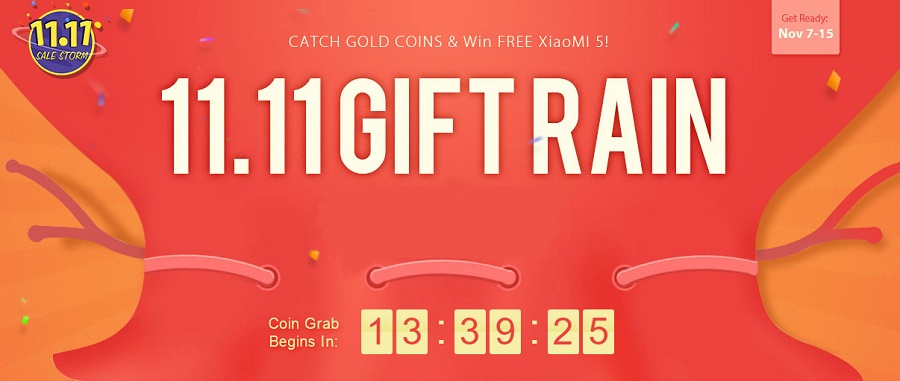 Gift Rain Requirements
There are some steps that you must follow in order to take part in the Coin Grab quest. Here, we are simplifying the process for you in a step by step explanation.
STEP 1- The very first step requires you to LOG IN to Gearbest's login page and then share on one of the channels linking to social media networks like Facebook, Twitter, Google+, Reddit etc.
STEP 2- TIME! Time is the biggest factor here. Keep your eyes glued to Gift Rain page during the mentioned time to take part in Coin Grab. The first Coin Grab quest starts
November 7, 2016 at 16:00 hours UTC
. From that time onward the time Coin Grab will be available are:
NOV 7-15 @ 11:00, 13:00, 16:00, 18:00, and 21:00 UTC
STEP 3- Remember, Gift Rain lasts only for
3 minutes
. So the gift grabbing duration is just 3 minutes. You need to be real fast or you will miss the exciting prizes.
Gift rain Tips
1. You can always check your gift in your GB Account, that's your Gearbest Account.
2. Coupons you win from the Gift Rain can only be used from NOV 10 (09:00 UTC) to NOV 16 (07: 00 UTC) inclusive.
3. You can share on more channels. The more you share, the more you amplify your chance to win a really cool stuff!
4. GearBest reserves the right to amend this activity, guidelines and prizes for this 11.11 Promo. If you have any questions, please contact their Support Staff.
So, here you go! have a Happy gifting!