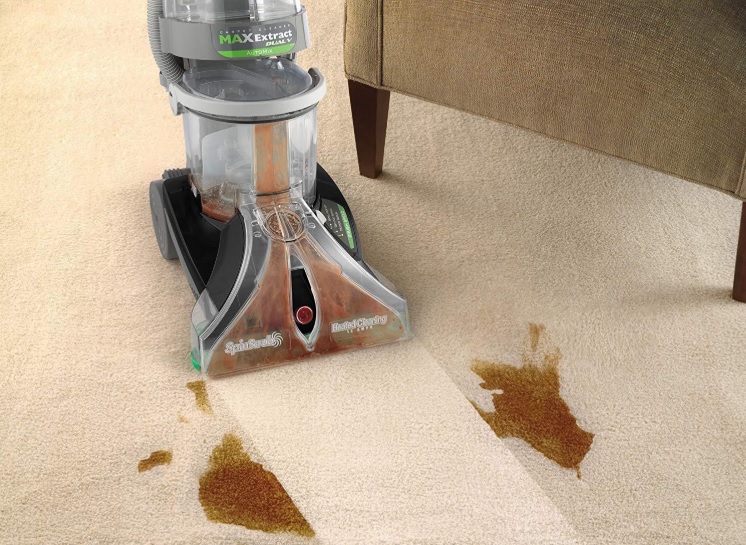 Wouldn't it be nice to have only one machine that cleaned your carpets, tiles as well as floors and upholstery? Hoover thought of that as well when creating the F4712900 for us. With a powerful motor, this machine can do all of that and more.

It is user-friendly from the time you pull it out of the box when it is brand new, to the time you are finished with your cleaning and ready to store it until next time. These features speak volumes when we are looking for a multi-surface cleaner:

SpinScrub Technology

This Hoover carpet cleaner has six brushes instead of the standard, which only has 5. The brushes work together to break up dirt or food left on tile or vinyl and to remove debris stuck deep into the carpet.

The brushes move in different directions hitting 365 degrees, reaching deep into your carpet to wash and clean each fiber. By adding the extra brush, you will effectively clean your carpet by an additional 20%. Using the technology, you will be able to see results clearly as the brushes work through the carpet on the path you just cleaned.

Automatic Detergent-Mixing System

Oftentimes when we add our detergent to the carpet cleaner, the ratio is off. This can leave residue on the carpet after you clean. The Automatic detergent-mixing system allows the correct ration in with the water to avoid overuse.

There is a separate area on the carpet cleaner where you add detergent which is separated from the clean water. This means even if there is detergent in the compartment, you will still be able to use rinse mode without using soap. The detergent can be left inside the machine until you use it again which saves time on having to fill and empty the compartment every use.

Edge Cleaning Bristles

One of the top features in a vacuum that people want is a machine that can get right close to the wall, or doors to get that area clean. For most vacuums, you will notice this is where you will have to use an attachment to reach that close to the wall.

With the edge-cleaning bristles, they will work against walls, as well as doors and baseboards. The bristles will break up any mess or stuck on dirt leaving it free for the vacuum to get. This is perfect for cleaning right under your cabinets in your kitchen, which is usually the hardest spot!

3 Different Brush Speeds

Different surfaces need different attention while cleaning. The rotating brushes can be set to 3 different speeds: spill pick up, gentle and power scrub. Soft is for a routine clean to make your carpet bright and fresh.

The spill setting is for liquids or messy foods that are spilled on your carpet, and the power scrub is for those deep stains that don't want to come out of pet messes. For kitchen floors, it is best to use the soft option as it won't harm the grout used on tiles. No matter what surface you are working on, you will find the right setting to clean with so that it will last longer.

Duel Tank System

There are two large water tanks inside this machine. One of the containers is used to fill up the device before use, and the other one collects the dirty water when it has been used. They work in sync with each other as one empties the other one fills up at the same time.

This vacuum will take hot or cold water depending on which you prefer to clean. Each tank is about 1 gallon which will last you longer. The tanks are easy to remove to fill up and empty so you can save time as you continue to clean and you will never have the issue of the water tanks leaking into each other as they are separate units.

Fast Drying

We all know the feeling of having a freshly cleaned carpet and not being able to walk on it because the floor is still wet. Hoover added an exciting feature when designing this machine. There is a heated air function which allows hot air to come out of the device while it is in this mode.

The air flows through the carpet allowing it to dry faster. This method will leave your carpets clean and dry in only a few hours. The powerful suction of the machine will suck up more liquid in each pass than others in a carpet cleaner comparison.

Power

This machine is stocked with a powerful 12 amp motor, which means you will see the suction power work on your carpets immediately. With a 15 inch path, the suction power will be able to lift more dirt, faster. With one of the larger motors on the market, you will be able to remove bold stains by letting the carpet cleaner go to work.

The power is also used when drying the carpet, mixing detergent and releasing water to clean then sucking it back into the dirty tank. The Duel-V technology will make sure the machine is using the same amount of power on each pass leaving an even clean. This is, indeed, another feature that makes it score higher in any carpet cleaner comparison.

Hand Tools

Since this is an upright vacuum, you will find the tools and hose size accommodating for any clean. The long, 8-foot hose is helpful when we want to clean around ceilings or under furniture. It is handy on stairs, around corners and for quick spot pick up.

The SpinScrub powered hand tool also has the rotating brush technology so while in use it will do the same job as the full sized machine but on smaller areas. It holds enough power to break up dirt and debris on the area it is used on. This is especially handy for cleaning upholstery, rugs and spot cleaning. Attaching and removing the motorized hand brush is simple and will only take seconds.

Conclusion

Now all you have to do is decide which kind of detergent is best for you and the cleaning requirements your home has, make your purchase and get ready to start cleaning your floors on a whole new level! You won't ever want to look back.