When you have set your iPhone in Vibration or silent mode, not necessarily Siri will also be muted. If unintentionally, you press the Home button for long, then Siri with pop up to be at your service. In general time, it might not seem to be a problem, but if you are in an office meeting, at a lecture hall, where silence is appreciated, then the sudden call of Siri might break the silence. Not only that, Siri will try to suggest you and tell you that she couldn't get your commands unless and until you interrupt from the task you are doing and deal her. A problem like this needs a solution and Apple has an in-built solution for you. Users who have been using iPhones since the inception of Siri, are well aware by now that by default Siri's volume is set to that of the Ringer volume irrespective of the mode you have set. For new users, this article will help them to mute Siri.
1. Open Settings, go to General and select Siri and tap Voice Feedback which is at the bottom of the options list. You wuill find that the Voice Feedback is set to Always On.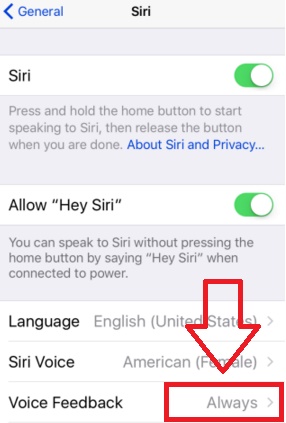 2. Select the 'Control with Ring Switch' option. This option will change Siri from mute to loud or back to mute depending upon the mode selected by you.