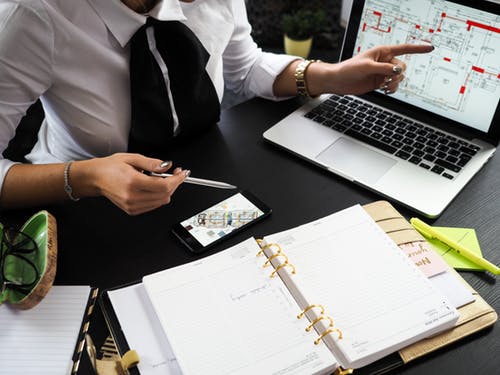 70% of people globally work remotely at least once per week. In the wake of COVID-19, more companies than ever encourage workers to continue this trend. This is a watershed moment that will prove that many employees can do their jobs from just about anywhere.
Following these changes, data breaches and damage to company data will only increase. Cybercriminals shift their focus onto new and easier targets. That's because most people's home networks aren't anywhere near as secure as their office ones. 
Security is always essential for businesses. But during this complicated time, it's even more critical. Companies cannot afford the damage of a data breach now (or ever for that matter). Instead, they must put in place strategies to secure documents and other resources for remote workers.
A Shift in Security Mindset
Companies have long relied on "fortress-based" security for computers and local devices. They've used firewalls, antivirus, and networking security. The primary goal has been to protect local computers and servers.
The last decade has seen a significant shift as companies have embraced cloud technologies. Now, it's possible to access business apps, virtual machines, and data from any location. The result is that security must adapt to these changes. 
Working from home presents its own challenges to keep your computer safe. With every endpoint a possible entry point for a hacker, making sure to install mobile endpoint security can help keep all of your devices secure.
COVID-19 has only accelerated the need for companies to find ways to safeguard remote workers. The stakes are even higher as the pandemic has choked financial resources.

How to Secure Documents and Other Resources
All companies should embrace a data-centric security mindset. No matter where your workers are, their data is the most valuable asset. With this driving ethos, you can make these necessary changes as well as instruct remote employees and colleagues to do the same:
1. Secure Home Networks
Since most public places like restaurants and cafes are currently closed, most people will be working from home. Now's the time to improve home network safety through these steps:
Create a secure password and username combination for the router.
Disable SSID broadcasts. Routers won't appear publicly; instead, you will have to search for them.
Filter MAC addresses. Each device connected to a router gets a unique identifier known as a MAC address. Use router tools to filter non-authorized users.
Create different networks. You can set up two or three networks with varying rules of security to separate professional, personal, and family life.
2. Don't Use Work Devices for Personal Use (or Vice Versa)
If your company relies on work vs. personal devices, then keep this separation for remote work too. As tempting as it may be to use a faster computer with larger storage capacity or for whatever advantages your different devices have, don't.
Company devices contain essential data and apps. They also have defenses in place against various threats. If you log in to your business network with a personal device, you can lead a hacker directly to what they're after.
3. Encrypt Anything Important
You should always encrypt all sensitive files. Encryption is the best way to prevent unauthorized access (not only by hackers) to your data.
Now, it's even more important to use it, especially to protect files you upload to the cloud. With the right tools, it's easy to secure not only documents but all types of data.
Do the same thing for your personal files too. You don't want a hacker to start a ransomware attack on them to leverage access to your business resources.
File encryption is essential for both files in transit and at rest. Use it too for anything you back up locally.
4. Use a VPN
Many companies have virtual private networks (VPN), proxies, and firewalls intertwined into their corporate networks. Employees may not even have any idea that they're browsing much more securely compared to their own devices.

Of all these tools, VPNs are the easiest to use at home. They use military-grade encryption over the network to ensure the connection of any device is private and safe.
You can install a VPN on computers and smartphones as well as on routers. The latter protects IoT and every device connected to the network. It makes transferring documents and other files much more secure.
Best of all, to get all this protection, all you have to do is tap enable on your VPN client, and you're good to go.
5. Stay Informed About the Latest Cyber Threats
Fraudsters have a vast arsenal of tools. 91% of all hacks start with an email. Hackers use phishing techniques to convince unsuspecting victims that these emails are real. Not only real but also coming from legitimate companies or government agencies.

It should come as no surprise that they are now using COVID-19 as a new way to lure people into revealing sensitive information.

Keeping up with tech news is the best way to know about these threats. No matter who sent you an email, don't click on any link and don't download any file until you know it's safe. Scan everything.

Don't let a cyber-attack happen to you. Use these tips to protect remote workers, resources, and data.