Huawei today along with New Android Wear-powered Huawei Watch has made one more announcement of its new fitness tracker TalkBand B2 and N1. If nothing in the huge range of fitness trackers has managed to catch your eye yet, perhaps Huawei's new entries in its TalkBand series can grab your attention.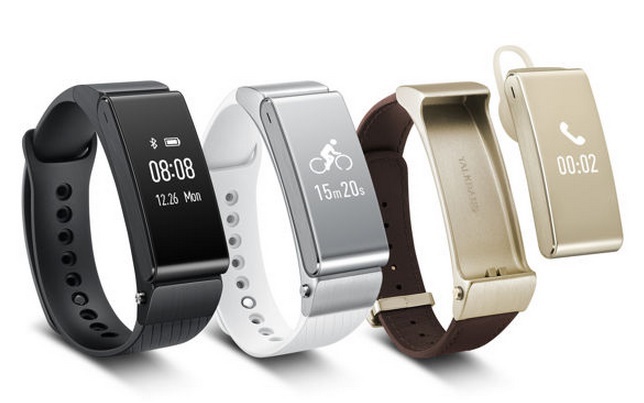 TalkBand B2 is a direct successor to the company's B1 fitness tracker, but this time with a more premium looking design. B2 is actually quite a stylish tracker, with the silver and gold models both sporting a nice looking leather strap. Along with the usual Bluetooth connectivity options, activity and sleep tracking, and familiar music controls, as before, the TalkBand B2 also doubles up as removable Bluetooth headset, which is able to recognize when the Bluetooth earpiece is on the wristband or not, and switches audio to either the TalkBand or smartphone as required.
Along with the updated look, the TalkBand B2 also features an improved 6-axis sensor for more accurate movement tracking and is IP67 water and dust resistant. The tracker can last up to 5 days on a single charge and supports smartphones running Android 4.0 and up and iOS 7.0 or above.
Along with the B2 tracker, Huawei has also announced its TalkBand N1, which is a pair of Bluetooth headphones that can also track your fitness. Here we're looking at IP54 dust and water resistance and up to 3 days of battery life and five hours of hands-free call time. The N1 features an extra 4GB of internal memory to put some music on too, so it doesn't rely solely on Bluetooth connectivity.
With clear innovative idea, Huawei makes both N1 and B2 quite interesting products. Let's wait n see if these product fulfill the customer expectations!