Like every year, the Consumer Electronics SHow (CES) 2018 took place and every company presented their finest products at the Forum. When it comes to LG, we expect some quintessential fine displays and televisions. This year LG unveiled CES event, the world's first 65-inch UHD rollable OLED TV at the annual Consumer Electronics Show (CES). The company unveiled the product much ahead of CES. According to LG, this 65 inches OLED rollable TV display can be folded like a sheet of paper when not in use. Isn't it interesting?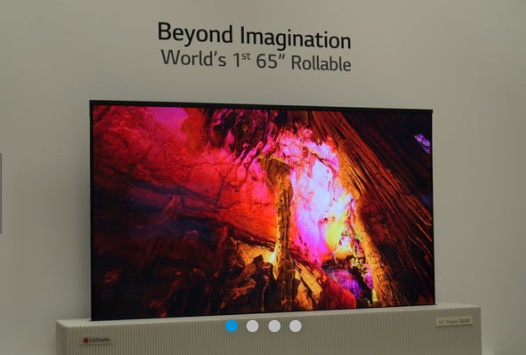 The OLED displays are lightweight, super sleek, just like a sheet of paper. The display can be smoothly moved and stored, so that space can be saved along with better space utilization. The flexible OLED panel is mounted to a motorized spindle, set in a rectangular box. You can't actually see how it works. All you can see is the TV going up and down. LG is however not willing to open up about the technical details about the prototype OLED TV. The Tv sports 4K Ultra High Definition (UHD) resolution.
The TV has aspect ratio 21:9 like many movie along with the conventional 16:9 widescreen TV. The TV can roll up and down. By rolling this TV down to the unreachable part of the screen, the rolling OLED TV can be resized to 21:9, and the black bars are mot needed.
Other than the 65-inch OLED rollable TV, LG also showcased the world's first 88-inch 8K OLED TV. The LG-made TV has a resolution of 7680 x 4320, which is 16 times the resolution of your Full HD (1920 x 1080) TV.