India has seen its first 3 D printed robot with the glory of IIT Mumbai. IIT Mumbai unveiled the country's first 3D printed robot in its tech fest which is being named as Manav being a project of New Delhi's A-SET Training & Research Institutes. Diwakar Vaish, head Robotics & Research, A-SET Training & Research Institute, New Delhi, is the pioneer and master brain of this robot. Amazingly, Vaish took only 2 months to make this robot. He said, "It is fully designed, printed and manufactured in India by A- SET Training & Research Institutes."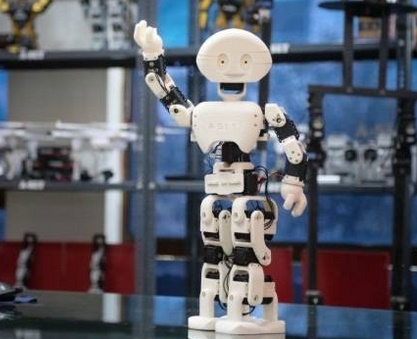 Manav is a 2 feet tall robot weighing around 2 kg which is pretty light. The robot is manufactured from 3D printed plastic and is powered by 21 servos. Manav will have cameras fitted as eyes and headphones will be equipeed so that iy can receive commands via audio signals just like a normal human being. Manav is a Sanskrit word which means human. So we can assume that the project aims to unfold the multifarious facets of human though this robot.
The robot is capable of playing football, exercising and dancing.
The cost is around 1.5 lakh INR to 2 lakh INR which means again India os a winner when manufacturing cost effective device is concerned.