The new Samsung Galaxy Note Edge has been announced recently and it promises to come with cutting edge features. Its curved and independent right edge feature has a unique purpose teamed up with its own set of controls, notifications, app shortcuts and widgets. This makes interaction with this smart device even more easier, i.e., seeing notifications and interacting with apps even without having to leave any window you are currently on.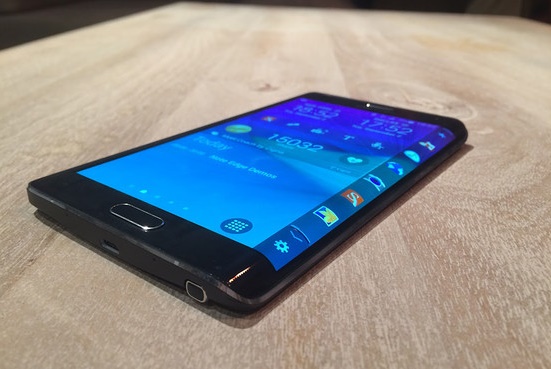 In standby mode, the curved edge softly glows with its display information, such as date, time or alarm notifications. While if you swipe it, you will have access to various widgets on the edge and also control buttons or menu-bars. On the physical aspect of the smartphone, the edge adds an extra width of 160 pixels in addition to the 5.6 inch display. In order to come up with some more functionality, Samsung is releasing an SDK to the developers for them to innovate on the Edge feature.
The new addition to the Note family comes with an S pen Stylus and Fingerprint Sensor. It will feature a 16 MP rear camera along with a 3.7 MP front camera and is bundled with 2.7 GHz quad-core Snapdragon 805 processor. It will have RAM size of 3 GB with 32 or 64 GB of internal storage and also micro SD support to expand memory up to 64 GB. Considering the specifications, the Note Edge will probably be priced at $349 or even more.
Source: Image Via The Wall Street Journal