Samsung is reportedly making a prototype of see through Safety trucks which will provide clear view of the road for vehicles behind the trucks. We know that large trucks are often the primary reasons behind road accidents as they block a major portion of the road, thus causing inconvenience to drivers.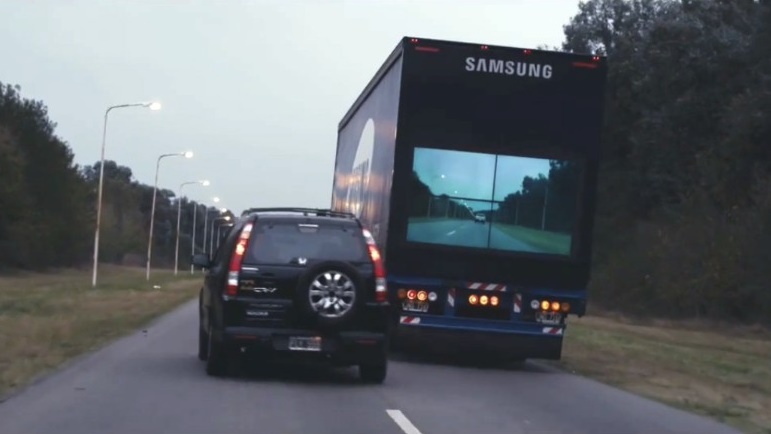 Safety trucks will have a wireless camera in front which will capture the road ahead live and the rear of the Safety Tricks will have video wall made out of four exterior monitors. So there will be a clear view of the things ahead. Bypassing trucks is not an easy thing, especially when on two-lane roads where the where vehicles need to take repeated dodges. Thus it will be easy for drivers to decide whether it would be a good decision to overtake. In addition to this, the cars lagging behind huge trucks will also come to know if any animal flock is crossing the road.
Samsung led the prototype development by providing large format display samples, and conducted a test with a local B2B client
Samsung is not the first company who has attempted in making such safety transparent vehicles. Toyota also researched in manufacturing similar concept known as Toyota Pirus see-through. Samsung launched a truck on the roads of Argentina for testing purpose. However, the prototype of safety trucks is still in research phase.
The Samsung Safety Trucks are not yet operational. The company has to undergo several procedures like obtaining permit to drive on national roads and other legal approvals.