Scientists at the National Oceonography Centre have found out a new method to measure the sea level with the help of GPS location service. The research has been carried on in collaboration with the University of Michigan and the Jet Propulsion Laboratory of NASA to find out a feasible way to plot sea levels. Ocean surface height measurement is an important aspect in studying ocean currents, the slope currents for different scientific research on ocean and aquatic life. Till now, the oceal surface level measurements were accomplished periodically from space by radar altimeters.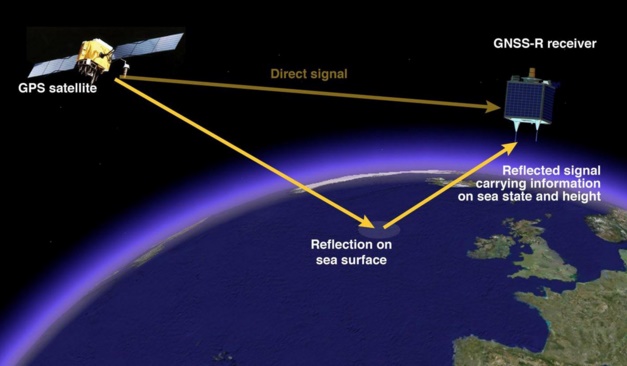 The new method to implement GPS signals has been researched because low power signals can be sent from space which will get reflected by the different topographical variations on the surface of oceans. Dr Paolo Cipollini said, "The sea surface is not flat at all, especially when looked at over long distances. The largest 'bulges' are due to variations in the Earth's gravity field. On top of those there are smaller, shorter variations due to sea surface currents. We are really encouraged by our results since it demonstrates for the first time that we are able to map the overall sea surface height from space using the GPS-reflections technique. This leads us to think that in the near future we should be able to map currents from space by detecting even smaller variations in sea surface height."
By applying GPS signals, scientists will no longer need to maintain hefty power consuming space radars. The main advantage behind using GNSS (Global Navigation Satellite System) it uses GPS satellites which are already orbiting. Besides, the receivers consume less power, are light weight and cost effective. Space radar altimeters are less in number and requires huge maintenance cost. On the other hand GNSS satellites provide coverage on the entire globe. So utilizing GNSS signals is more feasible. A constellation of GNSS-Reflectometry receivers would provide a thirty-fold improvement on the amount of data that could be gathered. Such a constellation will be launched in late 2016 as part of the NASA CYGNSS mission.