If you have started an electronic store online, how will you showcase your products effectively to your customers? In order to do so, you need to arrange the products in such a way that the customers are able to search and check the products with ease. Also, you need to make the website attractive enough so that the viewers can get attracted to your site and these viewers can soon get converted into your potential customers.
For such reasons, you need to develop your website and one of the best ways is to make use of the right electronics shopify themes for your website. Go through among these amazing themes to get the right option for your electronics website.
Electronics Store Responsive Shopify Theme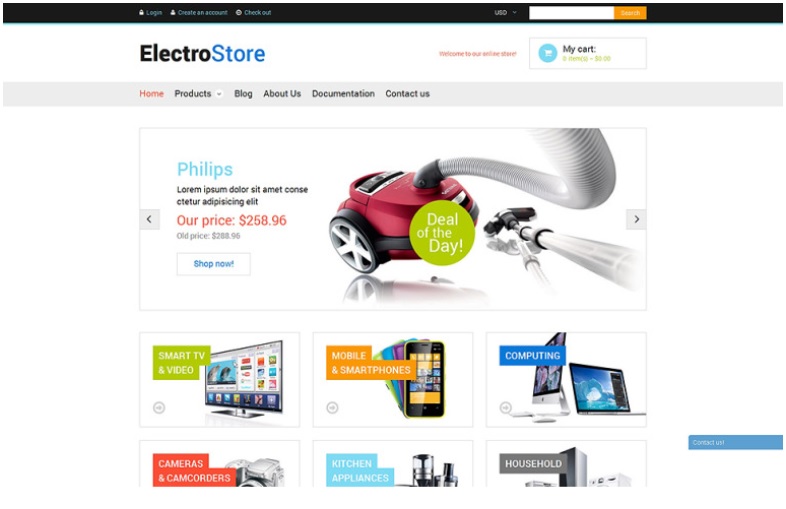 Looking for the right theme to showcase your electronic products online? This can be one of the best options that you can have in the year 2018. Go through the various features of the theme and you can know how it is one of the best options for your use.
It has a customizable homepage with various sections such as slideshow, logo list, and others,

It is responsive in design to offer the ease of opening the website on all screen sizes,

It offers the right sorting options to get the right purchase done,

Quick view of the product helps in viewing details of each product,

Other major features include multi-currency, megamenu, and slider,

Along with these, you also enjoy Google map, fonts, contact form, PSD, coding, and others.
Drone Shop Shopify Theme
Are you looking for a drone store theme? This is the absolute one that you should try out. If not for drones, you can also use this theme for other electronic options too. With so many amazing features, the theme offers you the right support for your site.
The responsive design is the first thing that makes it convenient for customers,

The homepage comes in customizable option with various other sections such as gallery and others,

The Ajax based sorting option offers the site much ease,

You can have project badges,

You get multi-currency and slider features,

Semantic coding, PSD, documentation, crossbrowser, contact form, blog, Google fonts and Google map are some other features offered.
Electro Innovation Shopify Theme
If you are using this particular theme, it offers a strict look so that the viewers can understand in one look that you have an electronics-related website. This makes this theme highly special and offers you the confidence of using it for your website to display your electronic items.
The responsive design of the theme allows your website to adapt to the screen size of any device,

The powerful tool of megamenu offers a great look,

The color switcher allows you to choose and switch colors for the theme,

Use the sliders for displaying information,

You have multi-currency and product badges,

The theme also features Ajax cart and product carousel,

You have other features such as sorting options, blog, contact form, Google map, and others.
The theme is compatible with various browsers and is very well documented. It also features PSD and semantic code.
Audio Gear Shopify Theme
Bootstrap powered this theme and it is mainly developed for mobile ecommerce. Mainly this theme is developed for audio gears and similar products and hence it offers you a hero area where you can display your major products. Apart from this, there are so many other features that the theme offers you for your website.
Apart from the responsive design, the theme offers a megamenu for attractive display,

It offers a pop-up for newsletter subscription option,

It offers you the display feature such as color switcher,

Product-related features such as multi-currency, product carousel and product badges,

The Ajax cart is offered,

The well documented theme is compatible with all possible browsers,

Other features included are PSD, semantic code, Google map, Google fonts, contact form, and others.
Home Electronics Shopify Theme
If you are looking for best electronics shopify themes, this can be one of them. It is known for its 24/7 customer support, stock photos and great satisfaction. The responsive designed theme has a number of other features too that you can explore to get the right website for yourself.
You get color switcher for the theme,

You have newsletter subscription option that comes up as a pop-up,

Megamenu offers an attractive interface while the sliders provide great information,

The theme is social network integrated,

It is SEO optimized and the PSD files are customizable,

It is well documented and is compatible in various browsers,

Other features that you can have are multi-currency, blog, product badges, contact form, Google map, and Google fonts.
Not satisfied yet? There are many more such themes that you can explore so that you can get the best one for you. Some such themes are SuitUP, Tronex, SoundKing, Ezone, and many others.