Her Last Album came as an App, she loves new technology, but mostly she is a warrior for sound. She has a history of stunning music videos, but she may have outdone herself with this latest effort. Icelandic songwriter Björk totally floats your boat with her upcoming video. You're in luck because Björk's upcoming video for "Stonemilker" will be available for Oculus Rift. She says that the platform is "almost more intimate than real life" and finds it exciting in general, citing its "crazy panoramic" abilities.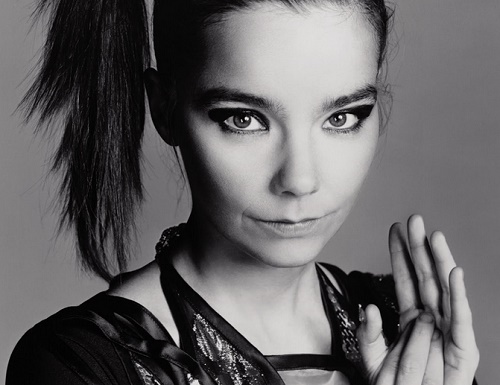 Björk Guðmundsdóttir got a big break when she had released her first album featuring a cover of the Beatles's "Fool on the Hill" (which you can hear on YouTube) at mere age of 11. She has eight studio albums to her name, plus the soundtrack to the 2000 film Dancer in the Dark, which she also starred in and has sold more than 20 million albums worldwide. She has recent collaborated with Venezuelan electronic artist Alejandro Ghersi (aka Arca), who helped create Vulnicura's beautifully ­desolate beats, and L.A. artist and filmmaker Andrew Thomas Huang, who directed videos for the album's "Stonemilker" and "Black Lake"
The clip for "Mutual Core," taken from last year's Biophilia album, features the Icelandic singer up to the waist in quicksand surrounded by shape shifting geological creatures and explosions of lava. It was commissioned by Los Angeles' Museum of Contemporary Art (MOCA) and directed by Andrew Thomas Huang; the video has made its online debut on MOCATV, which is the first official YouTube channel to focus on contemporary art.
Don't go thinking this means she'll release an entire album for it, similar to what she did with 2011's Biophilia being released as an app, though:
"I only did that album because I felt like I had content that made sense that could relate to the technology. It can't just be working with the gadget for the sake of the gadget. But also it's about budgets. You can do apps cheaply. Apps was kind of punk, actually. It was like starting a punk band again. Filming for Oculus Rift is not."
MOCATV also posted a making-of video that goes behind the scenes of the Reykjavík set. Filming involved a combination of CGI effects, heavy makeup, and physical props manipulated like puppets against a green screen, and Huang says the direction was inspired by the volcanic surroundings of Iceland. In an interview with Papermag, Björk explained a little more of the process behind attaching such striking visuals to a separate piece of music.
Along with this new album when asked what's more, Björk says she's keeping her new album off of Spotify because, well, in her words streaming music "seems insane." Her reasoning is that, like Taylor Swift's, it's about respect for music, not particularly the financial aspect. Should you want a deeper look inside her brain, be sure to hit the source link below.
However, it is claimed that Björk's new album, Vulnicura, is an account of breaking up with your longtime partner. When asked how working on such emotional material affects your process, here is what her reply was,
"This has probably been the most impulsive album I've done. I just had to listen to my gut, what felt right. What threw me a lot was just how difficult it was. Every time I would want to skip it and just do a disco album I [couldn't], because it was this big lump of songs I just had to deal with. Most people who go through a period of grief, it's a process. It's like chapters in a book: You do the first chapter and then you have to do the next chapter. In that sense it was a process that I wasn't in control of."
Björk's last album was available as an app, which uses your music to teach kids about sound, science, and ­nature. It recently became the first app acquired by New York's Museum of Modern Art (MoMA).Recently, Björk and director Andrew Thomas Huang shot a video in Iceland for "Stonemilker" that will be available for Oculus Rift. Another Oculus Rift video will be shown as part of a MoMA retrospective of Björk's career, opening on March 8. However it was claimed that the curator, Klaus Biesenbach, apparently had approached Björk 15 years ago, and she had said no to it!! Replying to this claim, Björk said, "I can't remember. He might have asked me and I just thought it was a joke. How do you hang songs on the wall?"