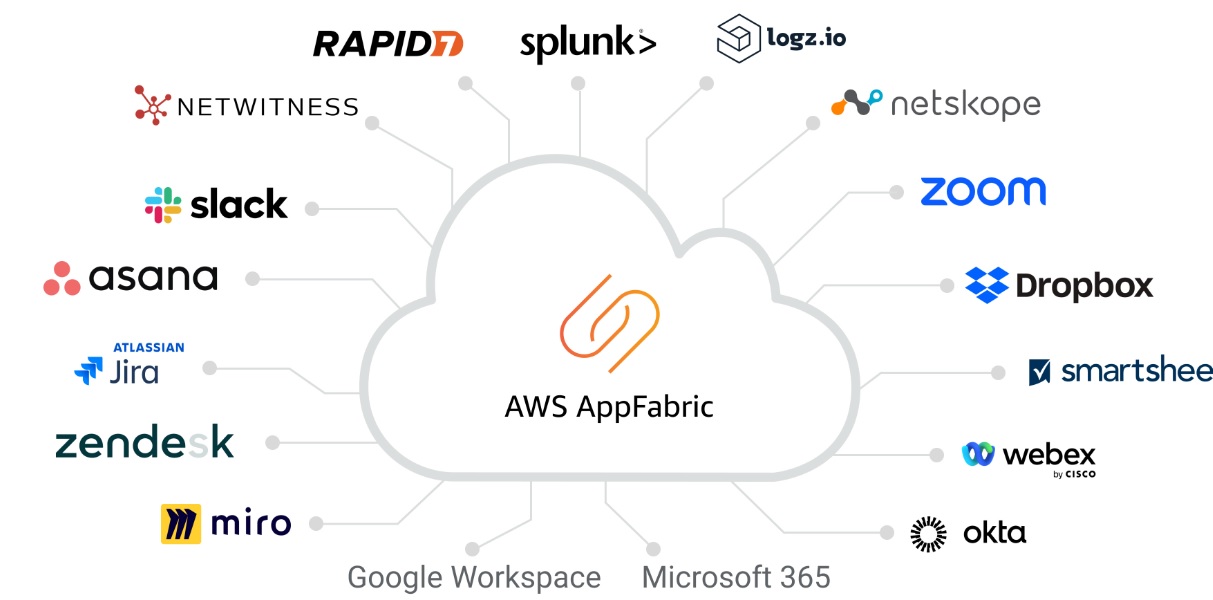 Amazon aims to assist organizations in establishing connections between the diverse applications they utilize, utilizing artificial intelligence (AI) as a significant component of this effort.
In a recent announcement, the company introduced AWS AppFabric, a novel service that eliminates the need for coding and is specifically designed to bridge the divide between software-as-a-service (SaaS) applications within enterprise settings. Amazon asserts that AppFabric, now widely accessible, offers superior security and management capabilities compared to other competing solutions currently available in the market.
Federico Torreti, the head of product for AppFabric, told TechCrunch during a briefing, "With AppFabric, we're enabling customers to actually get assistance and get access to information at the right time. Companies don't need to worry about building and maintaining connections between various apps."
By utilizing AppFabric through the AWS console, customers have the ability to seamlessly integrate their third-party applications, enabling them to obtain a consolidated perspective on application usage and performance. Once the integration is established, AppFabric offers standardized data and facilitates cross-application workflows. It accomplishes this by aggregating and standardizing data using AWS' Open Cybersecurity Schema Framework, enabling analysis for identifying patterns, security threats, and other valuable insights.
In addition, AppFabric provides the capability to establish consistent policies across multiple applications. It empowers users to define and enforce common rules and regulations for their apps. Furthermore, AppFabric actively monitors applications for any abnormal or suspicious activities, promptly alerting the relevant team members through timely notifications. This ensures that any potential issues or security breaches are promptly addressed and mitigated.
Given the widespread proliferation of SaaS applications, there is a clear demand for management and orchestration solutions such as AppFabric. According to Statista's data from 2022, the average organization was utilizing 130 different applications. Furthermore, a recent survey highlighted that more than 30% of businesses encountered redundant work due to the presence of multiple SaaS applications. These statistics emphasize the necessity for a platform like AppFabric, which can effectively address the challenges associated with app sprawl, streamline operations, and enhance overall productivity by providing centralized management and coordination capabilities.
Organizations have the option to develop in-house point-to-point integrations for their SaaS applications. However, this approach can be laborious and expensive, especially when dealing with applications that have unique APIs, connectors, and data formats.
As a result of the difficulties associated with in-house app integration, third-party platforms have emerged to simplify the process. These platforms, known as integration-platforms-as-a-service (iPaaS), abstract away the complexity of app integration. According to a poll conducted by IDG and TeamDynamix, iPaaS is experiencing rapid growth and is expected to reach a market value of $2.7 billion by 2024.
According to the IDG and TeamDynamix poll, sixty six per cent of the surveyed companies expressed their intention to allocate investments towards iPaaS in order to tackle data integration and automation challenges. Additionally, an additional 27% of the respondents stated that they have already made investments in iPaaS for the same purpose.
Amazon's AppFabric, despite initially supporting only 17 apps like Slack, Logz.io, Rapid7, RSA Netwitness, Netskope, and Splunk, brings distinct advantages compared to other iPaaS solutions like Zapier and Digibee. According to Torreti, one notable advantage of AWS is its reputation as a trusted entity, which gives it a certain level of prestige and influence in the market. He says, "If [a company is] using a third-party service that enables two-point integrations, there's two questions there," he said. "One is around the security of what happens with the data — the transferring of data. And the second is the 'busyness' of the solutions. I think customers have come to appreciate AWS' infrastructure offerings."
AppFabric is set to introduce another potential distinguishing feature in the near future. Scheduled to be released later this year, AppFabric will incorporate an AI assistant fueled by internally developed models from AWS' Bedrock generative AI platform. This AI assistant will possess the capability to perform various tasks, such as extracting valuable insights and generating content based on contextual information derived from multiple SaaS applications, as stated by Amazon.
It is important to note that the introduction of an AI assistant in AppFabric is currently a promise rather than a functional product. Considering the past challenges with the launch of Bedrock, customers may have valid concerns about Amazon's ability to deliver on these promises.
Adding to the competition, AppFabric's rivals have also been actively exploring generative AI capabilities. For instance, Zapier, one of the competitors, recently introduced a feature known as "natural language actions." This feature leverages command-based triggers and employs AI to execute actions across different applications. This highlights that other players in the market are making strides in utilizing AI for seamless app integration and automation, further intensifying the competition for AppFabric.
Toretti also said, "We're going to help customers to reimagine productivity using generative AI. And we can help customers elevate and control security posture as they think about apps that they're using."
Starting today, AWS AppFabric is accessible in the following AWS regions: US East (N. Virginia), Europe (Ireland), and Asia Pacific (Tokyo). It can be expected that additional regions will be added in the future to expand the availability of AppFabric.