The users of WhatsApp Plus have been locked for 24 hours by the official WhatsApp application. WhatsApp Plus is an unauthorized Android app which worked like an extension of the WhatsApp app and provided huge extent of customizations over the official app. WhatsApp blocked the unauthorized WhatsApp Plus because it had to resolve the security threat which was happening because of the third party app.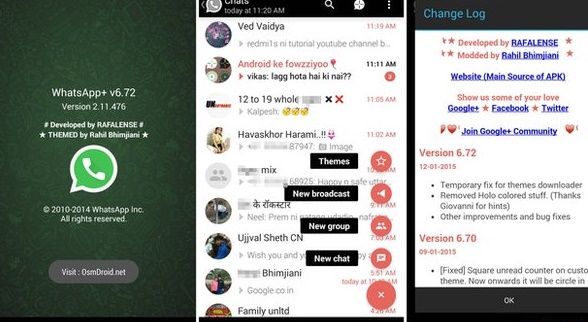 A spokesperson of WhatsApp said that the WhatsApp Plus application was prone to security threats and leaks of private information outside the app. The spokesperson said, "Our goal is always to keep WhatsApp fast and secure for the people who use it – it's the most important thing we do".
"Third-parties that have built unauthorised functionality on top of WhatsApp create issues for people including lost messages."
"This goes against the experience we work hard to give people and we won't let it continue. Starting today, we are taking aggressive action against unauthorised apps and alerting the people who use them."
WhatsApp has globally 700 million users sending an average of 30 billion messages exchanged each day. The app requires a $0.99 (65p) annual fee to users to continue with the service after enjoying first 12 months of free service. So it's natural that the company won't take risks involving safety of the users.
"We have received a cease and desist letter from WhatsApp and we are obligated to remove all download links and unfortunately delete this community," wrote Security consultant Graham Cluley. "I am really sorry for this but it's out of our hands and WhatsApp has pushed us into a corner that we can't escape this time. It was a fun ride but it has come to an end.
"Deepest regards from Rafalense and me and all the WhatsApp Plus team for your support."
WhatsApp Plus was not available at Google Play. Dr Joss Wright from the Oxford Internet Institute also adviced users to keep eyes open and be careful before installing any application.