Facebook is improving its existing features and adding new ones very frequently. It now prompts you to share links directly if you have copied the URL from a new tab. Another feature that I came by accidentally is the new way to share screenshots. This feature is obviously valid for the web version. For smartphones, your mobile phone must have a screenshot capture key combination.
You have to capture the screenshot and then share it on Facebook. In web application, you can do it directly without making any fuss. Previously, while using web version of Facebook, when we needed to share a screenshot, we had to print screen by pressing the Prtsc key (Windows) and then paste it in a photo editor like paint. With a recent update, you can do this directly in Facebook.
Open the window, website or anything whose screenshot you want to share. Press Prtsc (Print screen).
Now, open your Facebook profile and click on update Status.
Press Ctrl+V and the screenshot will be uploaded directly.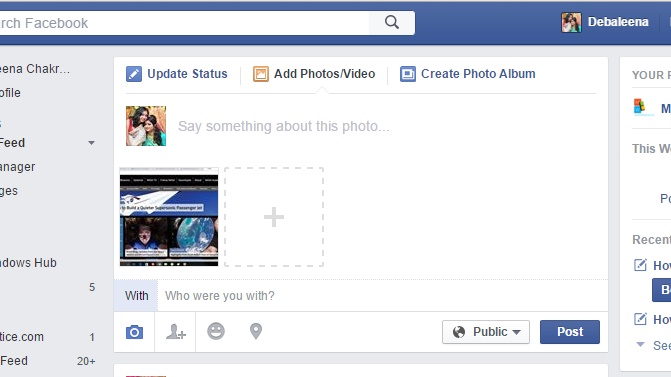 That's all!