SpaceX is on the verge to make a history today, with the launch of a space weather observatory followed by an ambitious rocket landing attempt on a floating platform in the Atlantic Ocean. After SpaceX's Falcon 9 rocket launches from Cape Canaveral and delivers its payload beyond Earth's atmosphere, the private space company SpaceX will attempt (once again) to land the first stage of the rocket onto a drone ship in the Atlantic Ocean. Launch is scrubbed for the day because of a radar issue and may possibly launch as soon as tomorrow evening.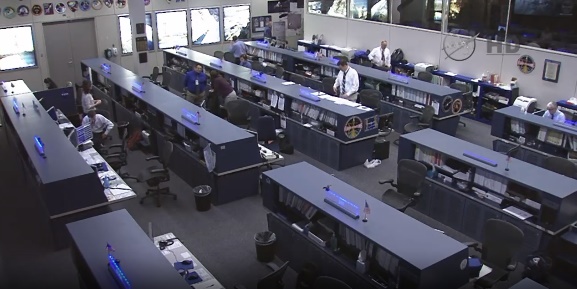 Falcon 9 rocket will launch the Deep Space Climate Observatory (DSCOVR) into orbit from Florida's Cape Canaveral Air Force Station at 6:10 p.m. EST (2310 GMT) that will observe both the Earth and the Sun at a million miles distance. You can watch the SpaceX rocket launch live online beginning at 3:30 p.m. EST (2030 GMT), courtesy of NASA TV. At 6:10PM (EST). NBC News reports that the chances of permissible weather for launch hovers around 90 percent, but Elon Musk doesn't have similar thoughts for a successful landing. "There is a 50 percent chance that we're all in for a disastrous repeat. SpaceX equipped this rocket with more hydraulic fluid, which was the main problem the last time, but the first stage of the rocket has to go through carefully choreographed aerial maneuvers on a flight path which is even more tricky than the last one," he said.
According to The New York Times, Falcon 9 rocket came into existence when NASA and NOAA were in need of a satellite to replace the Advanced Composition Explorer, which has recorded solar storm data since 1997. Instead of building a completely new satellite, NASA retrofitted the DSCOVR craft they had in storage with a new array of equipment while still maintaining the satellite's original photographic mission. Earlier, Falcon 9 rocket which is imaginary "GoreSat," was dreamed by Al Gore in 1998 as an instrument to take photographs of Earth at extreme distances. But unfortunately Republicans dismissed the plan as a waste of money, and when President Bush took office in 2001, the project was completely shelved.
Today, Gore and Musk's dreams are nearing reality!! Let's hope this project is successful and their dreams become reality!!