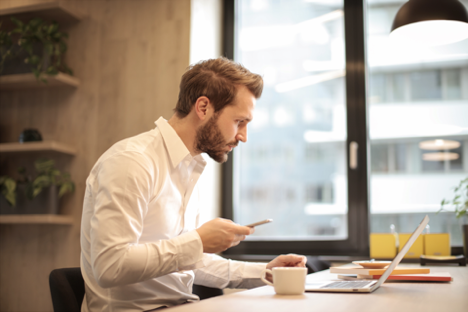 There's no denying that traditional sales tactics have taken a hit with the advent of the digital age as more and more people prefer to make their purchases online. This includes everything from greeting cards to buying an insurance policy. So how can a sales rep compete in this day and age where deals are made with just a few clicks?
Abraham Khader is an insurance broker and sales expert out of Tustin, California. As a three-time-winner of the prestigious Agent of the Year award with New York Life Insurance and other insurance carriers, he has a few aces up his sleeve when it comes to selling services to people face to face. He shares three of his top strategies for selling services in today's digital age.
Building Rapport
Whatever websites have in terms of speed and convenience, they can't compete with the rich experience that a real person brings in. A warm and sincere smile can go a long way into making a potential customer feel comfortable and more open to listening to whatever the agent has to offer.
According to Abraham Khader, a person can use their charm, warmth, and honesty in addition to their knowledge to build a rapport with the customer. "It's one thing to see a few words and digits on a screen," he says, "but it's a totally different thing to listen to a person telling you about premium coverage policies, what you get out of a certain policy, and how it can benefit you and answer all concerns."
Both rapport and trust are the best tactics that a sales rep can use to their advantage. A customer, regardless of their particular demographic, is always willing to invest their time and their money when they feel that the agent respects them, and their time and money.
Additional Value
In a saturated market where too many companies are vying for the customer's attention and business, the sales rep has to get an edge over the competition, and that edge can be having an added value.
What added value means here, according to Abraham Khader, is anything that gives the customer the impression that they're getting the professional services they deserve. It could be exceptional customer service. Even if you can convince the customer that you and your company care about their well-being, that could be all you'll ever need to get their business for a professional, and advisors that can reach their financial needs.
Customers are always on the lookout for the next good deal. It's the agent's responsibility to advertise their professional and knowledgeable services with the added values in a way that makes it hard for the customer to turn them down.
Personalization
No matter how hard Google and other online marketing giants can work in the way of personalizing the user's experience, they can't match a real person talking to an individual and getting a "feel" for what that individual needs.
"All the website can do," says Abraham Khader, "throw a bunch of products at every visitor and hope one of them sticks. But a professional agent has a unique solution to offer the customer. And that solution can be personalized even further. You tailor the service and you keep adjusting it until it fits the customer."
It's a lengthy process that takes time and skills, but it always pays to win over a satisfied individual and someone who's bound to be a returning person down the line.
Abraham Khader's Final Thoughts
In a world of spam phone calls and people receiving an average of 121 emails per day, closing a sale can seem challenging. The main trick; however, says Abraham Khader, is establishing a connection with your clients
"Make sure that when you are able to speak with a potential client, work on building a rapport, finding a way to provide them with additional value, and personalizing products and solutions for them," says Khader.