iOS users have been using the Beta version since a while. Apple has rolled out the official version for iPad, iPhone, iPod Touch. You can upgrade you iOS devices to the latest iOS 9. Some users are facing difficulties in upgrading the operating system as the update is failing for some unknown reasons. This time, the file size has been kept quite small as compared to what it had been with the previous iOS 8. The file space required for downloading iOS 9 is around 1.3 GB. iOS 9 has brought several new features in the operating system like Multitasking, Shift Key and keyboard changes, redesigned App Switcher, brand new Notes, News apps, transit direction in Maps . Have a sneak peek at the features: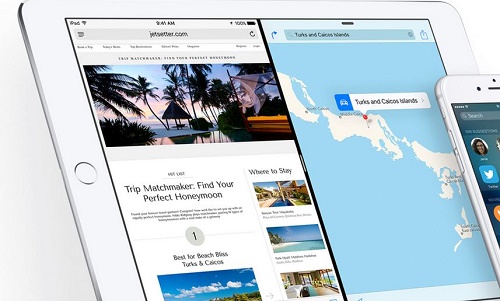 Revamped App Switcher
This time, Apple has given special attention on every facet of multitasking and the redesigned app switcher is one such. When the changes are listed down it may not seem convincing but if you consider the different new technologies that the new iOS devices are offering, the changes made appear to be much more convincing.
Unlike iOS 8, the app cards can be swiped from right to left in the chronological order. One thing that might be annoying to you, is that the app card is partially occupied by other apps. The app card is thus cluttered to some extent but the card size has been increased, which kind of neutralizes it. The smooth switching of apps will be well appreciated in devices like iPhone 6S which is including the 3D Touch.
Three types of Multitasking for iPad- Slideover, Split Screen and Picture-in-Picture
The new enhancements made for boosting multitasking in iPad can be undoubtedly listed as one of the most promising changes introduced in iOS 9. The screen can be split into two parts just like we had been doing in desktops, Android smartphones etc. Even though iOS 9 has introduced this feature lately, but it has introduced three types of multitasking- slideover multitasking, split screen multitasking, picture in picture multitasking.
iCloud Drive Improvements
iOS has finally included an iCloud Drive application where you can find and view all the files that you have synced. The app is right now lacking customization features and is allowing only grid and list view of content. The design and utility has been made similar to that of OS X.
Low Power Mode in iOS 9
The battery saver feature has been neglected by iOS till date. For the first time Apple has introduced the Low Power Mode, which when enabled, will cut down unnecessary power wastage from certain apps. The feature can be found in Battery screen under Settings option.
Apart from the above mentioned changes a plethora of mew features have arrived with iOS 9 keeping in mind the new iOS devices arriving in the market. iOS 9 has included a new keyboard. Apple has given special attention on the Keyboard because the iPhone 6S includes the 3D Touch Technology. So if you place your two fingers on the system keyboard, you can convert its function into a trackpad. The cursor can be controlled to highlight, select and edit texts. The Notes app has been revamped to a great extent. Other apps which have been given attention and ameliorated are Spotlight search, Maps, News and many more.