While parental control is a necessity, the tool that only runs on your PC/laptop is almost useless. Since the world today is modern and it is all about multi devices now, it explains the requirement of a more powerful parental control.
Qustodio is an amazing parental control device as it has got every feature you wish for. It has got everything including web content filtering, robust app blocking, and a detailed activity log where you can handle all configuration and monitoring through its online dashboard or mobile app. Qustodio lets you set rules and regulate your child's activities when you are away.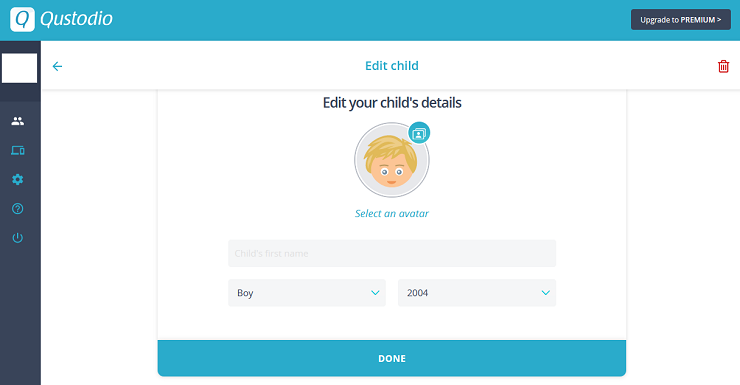 Pricing and Platforms
Qustodio, no doubt is a great app, but at the same time is expensive. however, it also has a free version that runs permanently. Like any other free version, this has limitations too. In the free version of this app, you can only hold a history of 7 days of activities and use a single device only for monitoring purposes. With the paid plan you can connect from 5 to 15 devices that come in different packages and offers. In the paid versions you get up to 30 days of activity history, application-based time restrictions, and location tracking.
Qustodio works great for families, schools and businesses as well as it has its versions for the purpose. It runs on Windows, macOS, Android, iOS, and Kindle devices. Some features of the app are platform specific. Mostly the iOS is limited as compared to the Android version.
Setup and Devices
For the subscribed of the paid version Qustodio app, you will need to install a local client on every device you intend to track. The work is easy onWindows and macOS. Just download, run, login, and add a name to go on. You can configure settings and manage the same for each device separately from the web interface.
When you get the app from Google Play Store or App store you will have to specify the child or parent account. It asks for permissions on Android, including Apps with usage access, Accessibility access, and device-level access, and also asks you to enable it as an admin app. For iOS, an MDM profile is required to correctly configure Qustodio.
Web Interface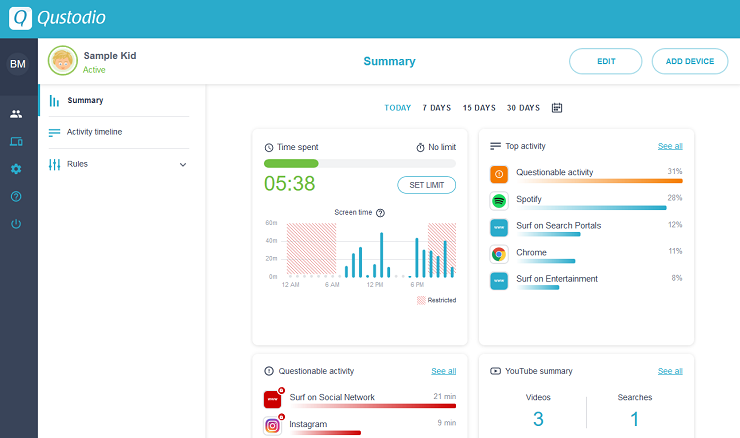 Qustodio's online dashboard has a smooth UI with consistent and well-organized elements. The app's performance is also quick. The navigation in the app is easy while there is no option to enable two-factor authentication in the Your Account section. The Help Center is of actual help with easy-to-access categories, readily available user guides, and a search bar.
For a child account, you will need to add details such as name, gender, and birth year, as well as choose an avatar. You can configure the rules and restrictions for a child from the Your Family section. There's a summary section that shows Time spent, Top activity, Questionable Activity, YouTube Summary, and Calls & SMS. The activity section shows your child's activities, across the web, app, search, call and SMS, and location categories. In the timeline section, you can block or allow apps right from this screen based on the activity tracks. And finally, in the Rules sections, you can tweak the rules such as restriction categories, including Daily Time Limits, Restricted Times, Web Filtering, YouTube Monitoring, Games & Apps, Calls & SMS, Location, Social Monitoring, and the Panic Button.
Web Filtering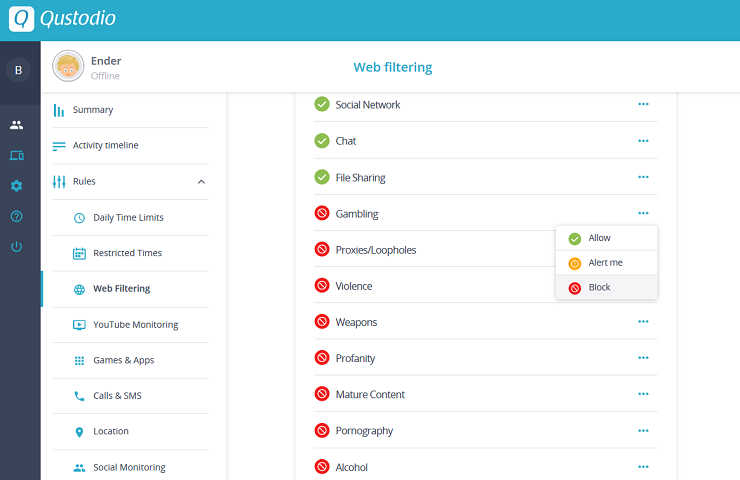 Qustodio by default has blocked websites matching Drugs, Gambling, Pornography, Proxies/Loopholes, and Violence categories. Parents are given the ability to allow/restrict 19 categories, including Social Network and File Sharing where they can follow actions such as "Allow", "Alert Me", "Block". Qustodio also blocks browsers it does not support and hence getting around restrictions becomes difficult.
Time Usage Limits
Qustodio has well managed time usage limits. The Daily Time limits are to manage the everyday use of the device and also gives you the ability to block the device for an entire day. You can choose to lock navigation or lock the device when the time is up and also be notified about it. Locking navigation on Windows and Macs blocks internet access and web browsers and the lock device option restricts your kids from signing in to the device. On Android locking navigation blocks most apps, except for the home screen, notification bar, and recent app lists and incoming calls while lock device setting everything except the panic button is blocked. iOS blocks the internet in case lock navigation and lock device setting hides all apps categorized with a parental rating of older than four years.
Qustodio lets you choose slots of time of the day and the setting is quite tedious. 
App Blocking
In the games and app section of the app, you can check for apps your child has used across any of their supported devices. Qustodio displays apps on the list as your child starts using them. You can choose to apply restrictions or block the apps as per your decision.
Location Tracking
This feature varies from platform to platform. On the web version, there is a location tab while on the app there is a dedicated Family Locator section. The child's profile data will show your child's reported location to 30d ays. It also includes geofencing capabilities for mobile devices, a feature it calls My Places. This feature lets you know if your child has left a defined boundary or has entered into a restricted place. 
Facebook and YouTube Monitoring
Facebook monitoring will show your child's contacts but not the contents of their conversations. Since there are a lot of alternatives and many apps, this is not overwhelmingly helpful. Also, it requires your child to log in at least once on the desktop to enable the tracking plug-in. Following that, the activity on the site regardless of the device they use to access it gets recorded automatically. The plus point here is, your child cannot access Facebook if the plug-in is disabled or removed.
The child's youth activities can be monitored as well. You can see the search history, and viewing history. You can restrict the use of Youtube or block the app as well.
The Qustodio has a mobile version that is equally convenient and easy to use. It lists all the features as the web version and tracking becomes efficient in this way. You can add or delete a child's profile and also manage the new/change of devices.
Qustodio is one of the best apps to use due to its features such as robust time restrictions, geofencing tools, and app-blocking on web and mobile platforms.