With new technology overlapping the previous one to serve the same purpose these days, doesn't browser and websites seem stone age in the world of apps? For instance what previously was accomplished by Google Handouts is now being done by a standalone Handouts app.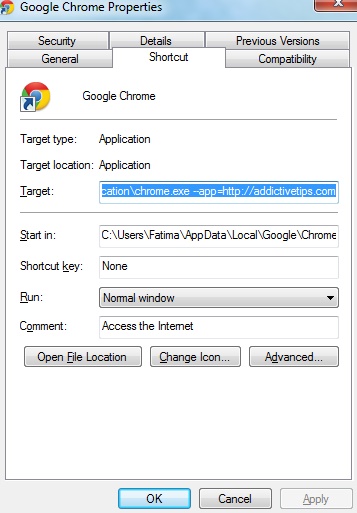 So the big question is, can any website be launched as a stand alone app?
The latest version of Chrome (tested versions: v. 39.0.2171.95) graciously quenches our insatiable thirst by providing the answer to this in few simple steps that anyone can follow.
Let's start by creating a short cut to the Chrome. Right click the shortcut and select 'Properties'. When the properties window pop up, in the 'Shortcut' tab go to 'Target'.The text written along the Target ends with '…\chrome.exe' , give a space and add '-app=http://WebsiteName.com' (replace WebsiteName with the name of your preferred website) . Leave the rest to Chrome, click Apply and close the window.
When you click on this shortcut now the website will be launched automatically. You can even pin this to the taskbar but with the chrome's icon. Congratulations! Now you are certified to open websites as a standalone app.
Source: Addictive Tips