Samsung Galaxy Note7 is now no less than an explosive after few of the handsets exploded and Samsung immediately asked for a recall of the devices. After the accidents happened, Samsung asked users to immediately turn off the phone, letting it discharge completely and issued a recall back in September. The company was severely criticised for launching such a harmful device without proper testing. This led FAA to ban Galaxy Note 7 on all flights. Devices have been replaced by he companies but still large Cruise companies are not convinced with it.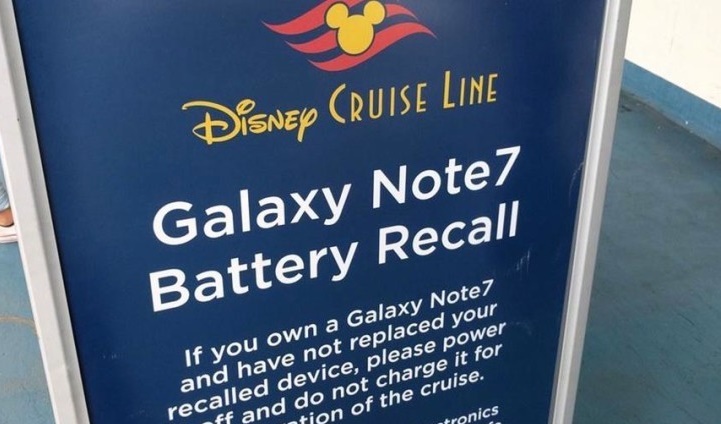 According to reliable sources, popular cruise companies like Royal Caribbean and Carnival cruise companies have banned the use of the Galaxy Note7 on all of their ships. Royal Carribean and Carnival cruise are the biggest cruise line companies in the world. They have completely banned use of Note 7 on their ships. Passengers or officials who are on board can carry Note 7 handsets if they possess but cannot turn on the phone or charge it during the cruise. Other cruise companies which are comparatively smaller than the mentioned companies are also following the same rules.
Cunard, Holland America Line, Princess Cruises, Seabourn, P&O Cruises, Costa Cruises, Fathom, Royal Caribbean International, Azamara Club Cruises, Thomson Cruises, Windstar and Disney Cruise Line are the cruise companies which are considering to refrain the use of the Note7 on their ships as well. While come companies are banning users from using the device, other companies are banning the phones completely from Cruise, especially the ones which have not yet been replaced. So if you are planning to spend time on any cruise and you have a Galaxy Note7, you are probably going to get into trouble.