The NAND flash storage which has been running on uncountable devices and on which our smartphones, tablets, ultrabooks etc. rely for storing countless files may soon get an upgrade on speed, capacity and performance. It is called the RRAM. Crossbar recently came up with a new technology which is called Resistive RAM (RRAM). The company that could create disrupt to the NAND flash industry claims that its non-volatile memory technology will be capable of handling 1 TB of storage on a single chip. It also promises 20 times the write performance (roughly 140 MB/s) as compared to the NAND flash storage, read performance of about 17 MB/s along with 10 times the endurance and 20 times less power consumption than the current NAND storage.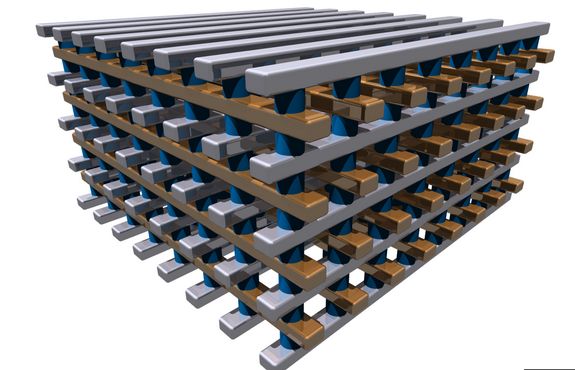 The new generation Crossbar RRAM chip will measure 200 mm2, i.e. , it can squeeze upto 1 TB data on the postage stamp size-like chip which means the users can store upto 250 HD movies on their devices. The company says that due to its simple 3-layer architecture it can be stacked in 3D instead of the 2D horizontal grid resulting in multiple TBs of memory on a IC. Its simple structure, ability to be stacked and CMOS compatibility helps to enable logic and memory to be easily integrated onto a single chip which is not possible with other non-volatile memory technologies.
The company further says that the RRAM will be able to retain data as long as 20 years in contrast to the 3 years provided by the NAND chips.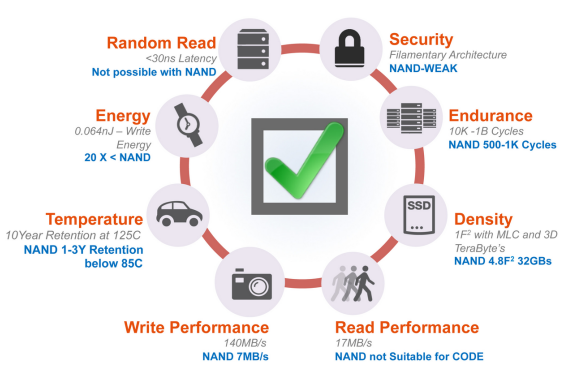 In the next few years we may see smartphones, tablets carrying 1 TB of data and also extending the battery life of such devices by weeks or months on a single charge. Though the price of RRAM has not been revealed, but Crossbar says that it would provide twice the density of NAND with better performance for the same cost. However, costing may depend on a variety of factors, applications, volumes, etc.